Las Vegas Rocks
by Dr. Fred Hueston
Photos  Courtesy Dr. Fred Hueston
Based on the title of this article you might think this is a story about the rock and roll shows in Las Vegas. Most of you think of the Las Vegas experience as a trip to see the Bellagio fountain or perhaps seeing a headliner at one of the shows, but for this stone aficionado a visit to the one-of-a-kind metaquartzite quarry and facility just outside of Las Vegas was my DisneyLand.
As part of the stone and tile inspection class that I hold every year in Las Vegas, I thought it would be a good experience for the class to visit a quarry. But a quarry near Las Vegas? After all, isn't this area of Nevada a desert? You know–just sand and cacti and the occasional mob-disposed body. Who would have thought that just 30 minutes outside Las Vegas there would be this fascinating stone quarry? I found it with a simple Google search and sent them an email asking if we could get a tour as part of my class. The answer was a welcoming "Yes!" and the following report is what we experienced there.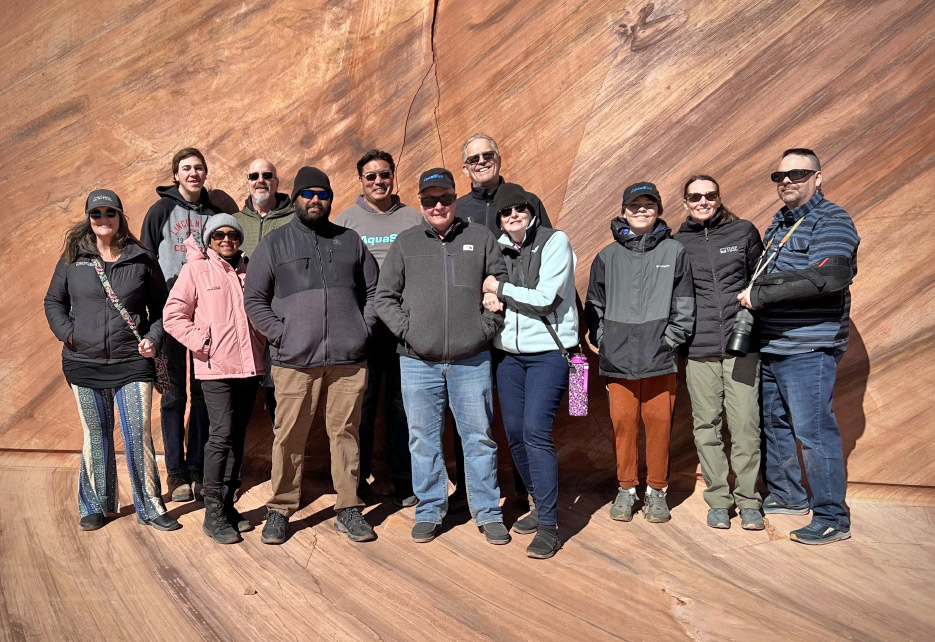 Above: Dr. Fred Hueston (Center) and 2023 Tile and Stone Inspection class visit the Las Vegas Quarry.


The Historic Rainbow Quarry
We arrived at the Las Vegas Rock facility in Jean, Nevada around ten that morning. It's in a bleak but beautiful area, located within view of one of Nevada's state prisons. We were greeted by the company's CEO Jeremy Adams. He took our group into the stone processing shop, where large blocks of metaquartzites where being cut and shaped for various projects. We saw a beautiful display of finished products made from the gorgeous metaquartzite, including countertops, tiles, and mosaics. We were amazed by how beautiful and useful this stone was, and we couldn't help but think about how we could use it in our own projects.
After the shop's tour, we were loaded into several 4x4 vehicles for our trip to the quarry. In my opinion, this was the best part of the tour. Jeremy first gave us a little history of the quarry; here's a brief summary:
Since the 1930s, Las Vegas Rock has been extracting beautiful metaquartzite stone. Their stone has been used in a variety of projects, including Frank Lloyd Wright's designs, Bugsy Siegel's original Flamingo Hotel, and Wilbur Clark's Desert Inn. The Rainbow Quarry is approximately 920 acres in size and is located outside of Goodsprings, Nevada, which was once one of the largest mining areas in the United States.
In the 1930s, the Rainbow Quarries were established in the Goodsprings Mining District. Las Vegas Rock owns and operates 320 acres of patented quarry land, as well as over 600 additional acres of approved mining claims. The resulting stone is a Striated Metaquartzite, which is extremely durable and colorfast. All of the boulders, crushed ground covers, flagstone, and cleaved stone are produced at the quarry.
In the Jean, Nevada factory, the blocks from the quarry are cut and polished into slabs and other materials. Each slab has its own distinct geological composition, beautiful color, and veining. Las Vegas Rock has earned a Silver Cradle to Cradle certification. Anyone who is building "Green" or involved in a LEED project can benefit from these materials and gain additional benefits from the Cradle to Cradle certification.

Pellegrini wire saw and a kerf machine at the Las Vegas Rock quarry stone processing plant in Jean, Nevada.
So exactly what is metaquartzite? Here is the geological definition: Formerly pure quartz sandstone, metaquartzite is a firm, non-foliated metamorphic rock that was transformed into quartzite by the intense heat and pressure typically associated with tectonic compression.
So what's the difference between quartzite and metaquartzite? Sandstone can be changed into quartzite by precipitating silica from interstitial fluids beneath the surface of the Earth; these rocks are known as quartz arenites, whereas metaquartzites are created by recrystallization at high temperatures and pressures. Simply, more heat+more pressure turn can turn sandstone into metaquartzite.
That's your short geology lesson – back to the tour. The trip to the quarry was a good thirty-minute winding down a long desert road. The view was typical of the Vegas Desert, but to our surprise we spotted several wild horses at a watering hole on the way there. Of course, we had to stop to take some photos.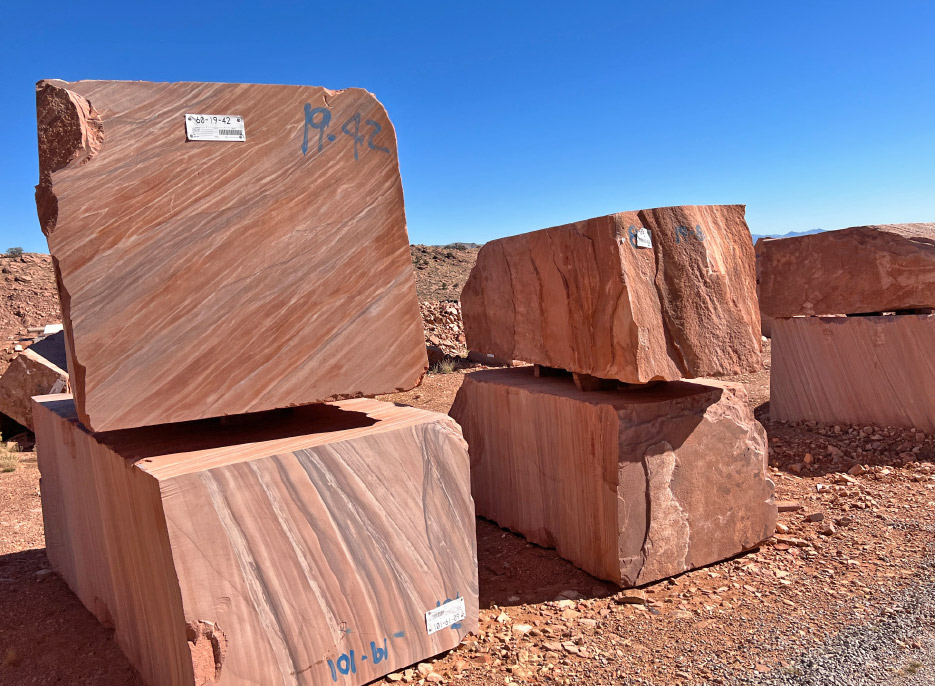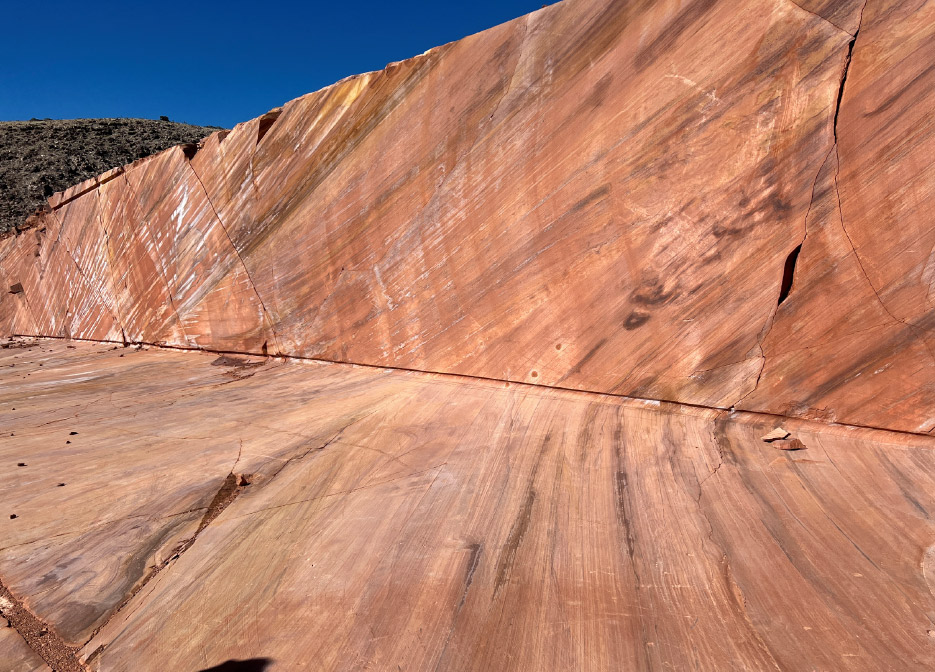 Below: In addition to blocks, slabs, pavers and more traditional stone products, Las Vegas Rock produces some unique stone tables and chairs. Beautiful, stylish – and reportedly, they are quite comfortable.


We entered the quarry and we were immediately in awe of the site. Large blocks of metaquartzite were piled up, apparently ready for transport to the fabrication shop located in Jean. We first stopped at the part of the quarry where gravel and sand was processed. This was interesting, but this group was more interested in the blocks that are used for dimension stone. So we hopped in the 4x4's and headed up a long winding road to where the blocks were extracted. It is hard to describe how beautiful this material is. It reminded me of one of those sand paintings I used to do as a kid. We were able to walk around the quarry and pick up samples of stone for our own collection. I listened carefully as Jeremy explained the quarrying process they used. I will be adding this to all my stone and tile inspection classes in Las Vegas. It was quite the experience, and I recommend it to anyone to further their education of this essential part of the stone industry.

Overall, the tour was both educational and eye-opening. We came away with a much better understanding of not only metaquartzite, but also the entire stone extraction process. Las Vegas Rock is an excellent example of how a company can successfully combine traditional and modern elements. For more info on Las Vegas Rock, visit their website at www.vegasrock.com .