Helios Automation Case Study
Nick Wadenstorer
Stone Industry Consultant
As many of you entrepreneurs look to control your manufacturing costs, you look at automation to accomplish your goals. However, as a small business owner you are immediately faced with expensive automation options that can quickly put you in excessive debt, and you risk buying machinery that has more production capacity than you need. You are coping with the fact that these machines are limited in their functionality; they are single-purpose machines that require an excessive amount of factory floor space, heavy power requirements, high consumable and high maintenance costs, when really all you are looking for is a small footprint solution that doesn't cost a fortune, and gets the work done.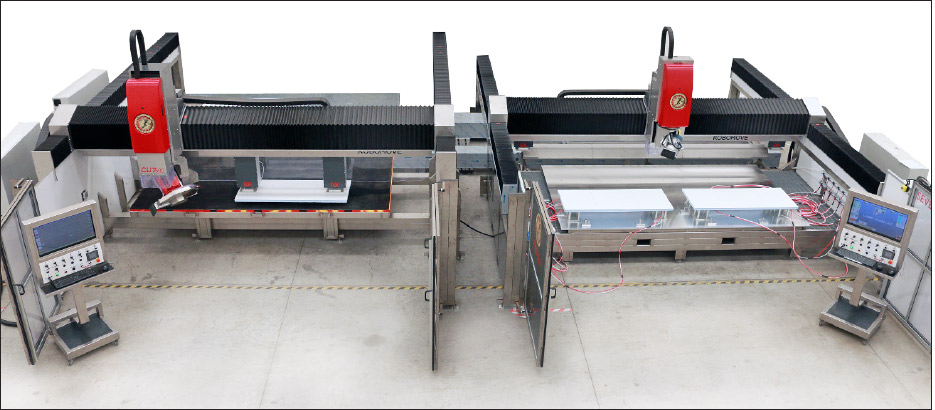 Integrated Linear Helios System: Zeus CNC and a Cut 500 Saw.
So how do you expand your business at your pace? What if there was an option to buy an automated production line in pieces? What if you could set yourself up for a growth pattern that is affordable and scalable based on your current capacity needs?
Helios Automation has developed affordable automation for small business entrepreneurs to help position them for future automation as it becomes affordable. Most fabrication shops start with a manual bridge saw and at some point, the need for automation becomes apparent. Maybe your volume is increasing and you need to cut more slabs, or maybe you need to cut sinks more efficiently. The most common complaint amongst owners today is the need for additional reliable labor. This is where the first stage of automation comes in – typically, the choice is a 5 axis CNC saw, or sawjet. This question has been debated countless times and comes down to what your needs are, based on your business model and capacity for capital expenditures. This accomplishes most of what fabricators need: to efficiently cut and shape countertops.
Once the digital transition has occurred there's a transition period in the shop where the new equipment becomes relied upon, and you wonder how you lived without it. The countertops are cut to size, the sinks are cut, back walls are scribed to fit – and now the daily struggle with hand polishers shows itself. Time for a flat polish machine and CNC Router! But CNC Routers are expensive! They are tough to set up, loading them efficiently becomes an endless game of Tetris, and most large bed CNC Routers aren't utilized to maximum potential.
In my almost 20 years of experience in the granite fabrication business, I estimate about 70% of fabrication shops in this country are producing less than 200 square feet of finished goods per day. The Helios automated solution is perfect for those fabricators looking to produce less than 300-400 square feet per day. This system allows you to purchase each of these machines as components, one at a time, until the completed automated assembly line is finished.
This system allows you to have one operator loading the CNC Saw, managing pods, and unloading scrap and finished goods. This dramatically saves on labor, increases shop productivity, and decreases mistakes in the fabrication process.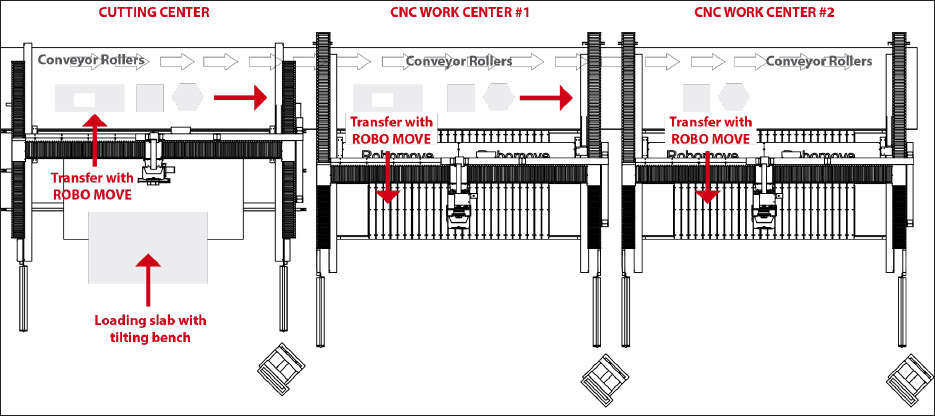 Above: The Helios Integrated Robo Move system moves pieces automatically from CNC Saw to CNC Router.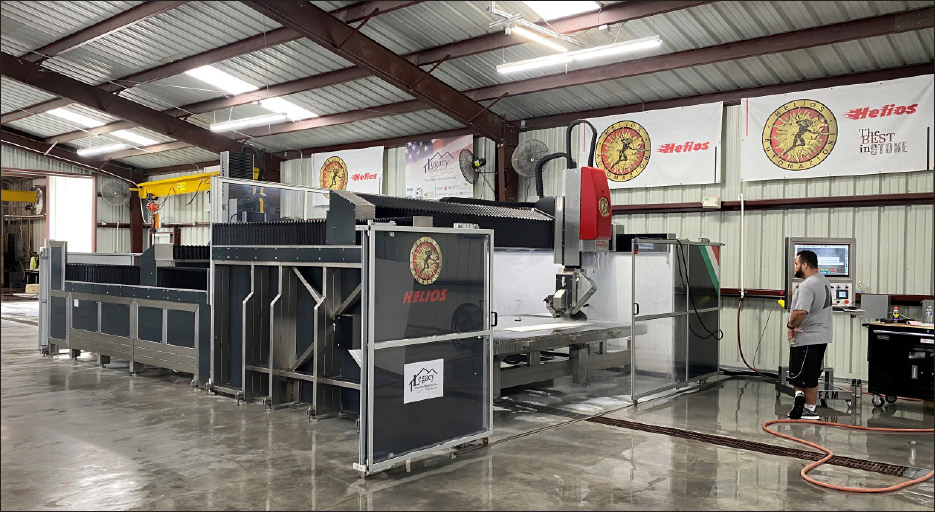 Above: Helios also provides Double Table solutions based on your shop's needs. All machines are made of stainless steel for durability and rust protection.
"Purchasing Helios CNC machinery has been the best decision we've made for our company." – Luis Pichasaca, Ecua Stone Corp.
Above: Integrated Lineal Solution with one Cut 500 and two Zeus CNC Routers. Helios has many other automated workflow configurations available.

"Helios has one of the best technical support services in the market." – Luay Allos, Granite House
The system is linked together with a shuttle table behind the machines taking cut pieces and delivering them to one or two routers based on the system's available capacity, keeping up to 4 tables loaded and in production.
Helios recognizes that not all shops are the same, and they have developed many different configurations, making this system very flexible and giving you the ability to configure the setup as you need. If you prefer to have more cutting capacity, you can link this system together with two Cut 500 CNC Saws, and one Zeus CNC Router, or maybe you want a SawJet instead of a Cut 500 – this is also an option. Most systems are set up either as one CNC Saw and one CNC Router, or one CNC Saw and two CNC Routers.
Helios machinery can meet all requirements for daily fabrication. All working tables are 140 x 80 inches with a working area of 151 x 94 inches. Saw motors are strong, 25 HP power plants and are coupled with second spindles for more efficient milling and drilling. They are equipped with VeinMatch and Photoscan digitizing programs, and lasers for manual functions, if necessary.
They also aren't limited like double table systems where if one part of the system goes down, your shop is down. They are independent of each other, allowing you to continue fabrication during downtime or maintenance periods. Service and support on these systems comes from Detroit, Michigan, where assembly and runoff takes place, ensuring parts are in stock with timely service available within the continental U.S. Finally, the machines come with a 2-year warranty for peace of mind.

Nick Wadenstorer has been in the stone industry for 20 years with more than 15 years in automation and is considered a key opinion leader on helping fabricators be more profitable. Visit www.heliosautomazioni.com for more information.