Stone Restoration and Maintenance Corner: Sacred Heart Cathedral
Bob Murrell
M3 Technologies
Photos by Bob Murrell
I have been working with a local Catholic Church regarding the maintenance of their marble flooring. It is composed of several different types of marble and limestone. The Sacred Heart Cathedral is a newly constructed (in Church years) massive structure, in the heart of West Knoxville, TN.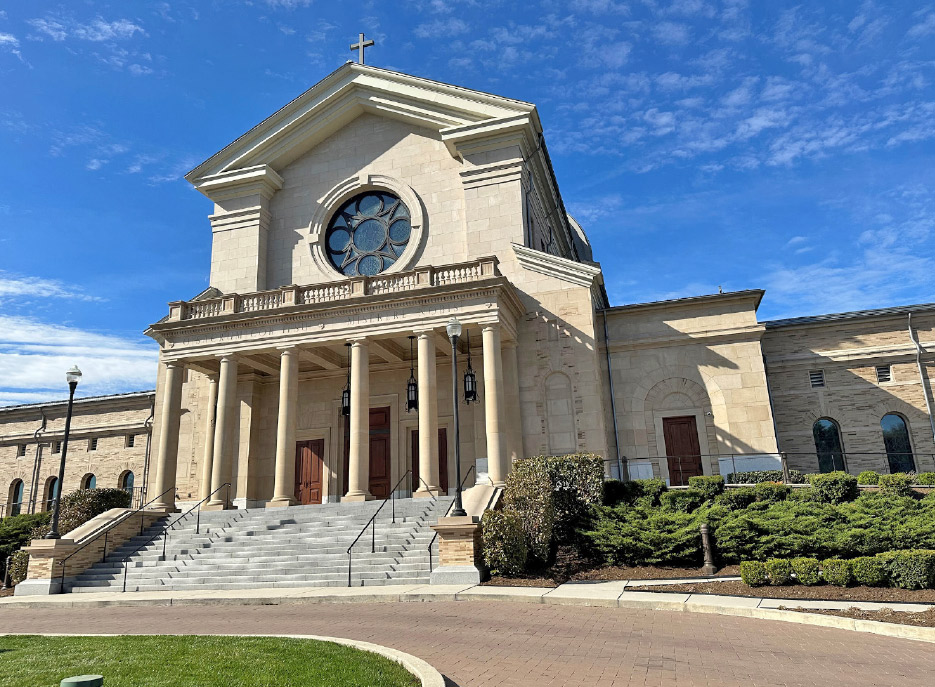 Sacred Heart Cathedral, Knoxville, Tennessee, is a fairly new building filled with beautiful stonework. The interior stonework received a Natural Stone Institute Pinnacle Award of Excellence in 2018.
A long-time friend and customer of mine, Tim Lesnar, did the most recent restoration project of The Cathedral of Saint Paul in, you guessed it, St. Paul, Minnesota, several years ago now. That current church building was built in 1915. The Sacred Heart Cathedral here in Knoxville, is only a few years old, completed in 2018. I have been doing my best to help them get on a good maintenance program so that they can avoid a restoration project for as long as possible. Of course, with a church population of some 2400+ families and all the foot traffic, it will need some light restoration at some point.
All of the more than 12,000 square feet of many different types of Italian marble were custom fabricated and installed by Rugo Stone, out of Lorton, Virginia. There were at least 12 types of marble used in the flooring, steps, wainscoting, and columns alone. The exterior is structural Indiana Limestone and brick.
The install has received many accolades, including a Commercial Interior 2018 NSI Pinnacle Award of Excellence. So, as you can see, there is a big spotlight on the maintenance and care for this unique stone installation.
The marble floors are below a polish level finish: a high hone with a very nice patina. This is the level of finish that the floors need to be maintained at, which I would estimate at about a 1,000 grit finish. This means there's a small amount of 90 degree reflection, but certainly a good gloss at an oblique angle, or looking across the floors. With thousands of parishioners walking across the floors on a weekly basis, this is the main point. The Most Reverend and Fathers expect a certain level of gloss and that is what Tom Greer, Director of Facilities, and Andres Campos, Porter, have been charged with: keeping the marble in tip-top shape.
Tom came to me via a recommendation from a local contractor. The first meetings with Tom determined that the floor was losing some of it's desired shine due to foot traffic wear (remember: foot traffic is equated to between a 200-400 grit wear factor). Tom and Andres have a 20-inch walk-behind auto-scrubber that they had been using since back when the cathedral was turned over to them.
What I proposed to Tom and Andres was to use their walk-behind scrubber with PLP Diamond Impregnated Pads (dips) in combination with Majestic No-Rinse pH Neutral Cleaner. I suggested that they start off with a PLP 12,000 grit pad and the Neutral Cleaner. My thoughts were that the 12,000 grit PLP would be the least aggressive pad while still delivering some extra light honing performance. Also, the Majestic Neutral Cleaner would leave the floor residue-free while adding optical brighteners.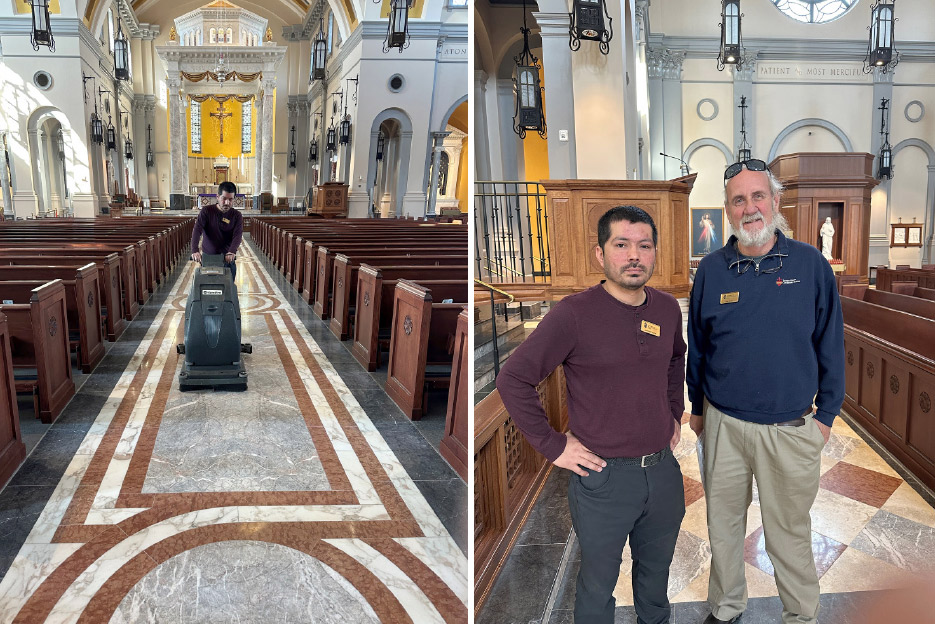 Above, left: Andres Campos running the 12,000 grit PLP and Majestic pH Neutral Cleaner down the main aisle of the nave.
Above, right: Andres Campos – Porter, and Tom Greer – Director of Facilities, Sacred Heart Cathedral, Knoxville, Tennessee.
Andres is very accomplished at using the tools effectively to achieve the desired results. He found out that more than 8 passes, which is a standard procedure, may yield better gloss. In fact, when he did many passes (more than 8), the gloss became mostly the desired high-hone look everyone had agreed upon. Gloss meter readings indicated an 8-10 point gain in the worked sections.
Where more wear was evident, say choke and pivot points, it was ultimately decided that dropping down to a lower grit PLP would be beneficial. Andres ran a 1500 grit pad then followed with 3,000 grit and finally on to the 12,000 grit pad. The improvement on these heavier wear areas was a marked success.
There are some areas where Andres will have to use a hand tool with Premium Flexible 5-inch resin diamond discs. Steps to the altar where a gate swings and some other traffic wear areas have worn a scratch pattern in the marble. These areas will have to be honed using the Premium Flexibles from at least a 200 grit through 800 grit, and then finished with the PLPs or maybe even 5X Gold. This area may have a slightly higher finish, but that will be determined when honing is completed.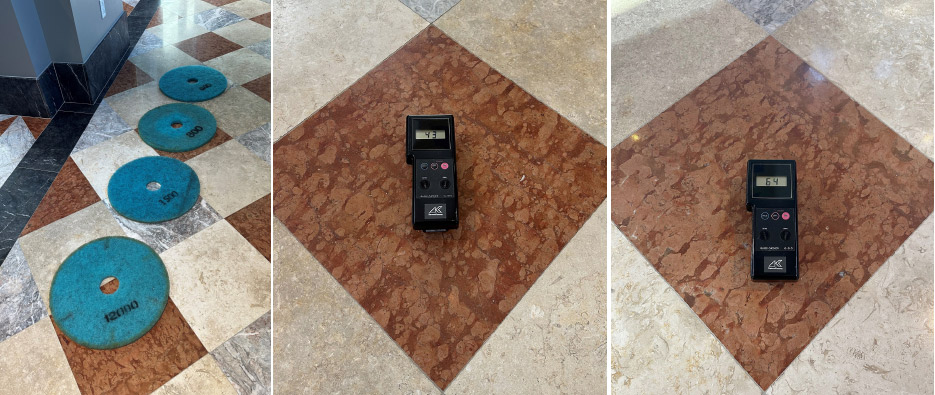 Left: PLP pads for use on the marble. Coarser pads, anything below 3,000 grit are only used for heavier traffic wear.


Center: Gloss meter reads 43 before running the PLP Diamond Impregnated Pads.


Right: A gloss meter test reads 64 after the PLP pads were run. The desired result is a high-hone level of shine, not a high polish.
For the most part, this maintenance program is on target for a cost-effective method of maintaining the marble naturally, as it was designed.
It is an ongoing maintenance program that allows for the flexibility of routine maintenance, which will keep the flooring surfaces clean and scratch-free using existing equipment and minimal extra work.
I was lucky on this project as I had extremely good people to work with and who took their work seriously, helping make the plan work. It is a beautiful church with a large congregation. Foot traffic is the greatest wear issue aside from an occasional mishap, like the gate sweep scratches. I am confident this group will be able to handle almost all of the marble issues in-house. Not only will this help keep their costs for the marble care down, but it gives them the flexibility to make most of the minor restoration operations available to them, on their timeline.
As always and before beginning any new project, I recommend submitting a test area to confirm the results and the procedure, prior to general application of a stone or hard surface restoration/maintenance project. Also, the best way to help ensure success is by partnering with a good distributor, like BB Industries, that knows the business. They can help with technical support, product purchase decisions, logistics, and other pertinent project information.

Bob Murrell has worked in the natural stone industry for over 40 years and is well known for his expertise in natural stone, tile, and decorative concrete restoration and maintenance. He helped develop some of the main products and processes which revolutionized the industry, and is currently the Director of Operations for M3 Technologies.
Send your comments and questions to Bob at attn:publisher@slipperyrockgazette.net .