Artisan Group Welcomes 30th Member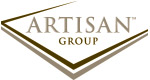 The Artisan Group, a premier network of stone fabricators in North America, welcomes McDermott Top Shop as its newest, and the group's 30th, member.
Based in Jefferson, Wisconsin, McDermott Top Shop has been providing custom countertops in Wisconsin and the surrounding Midwest states since 1995. Their dedicated team provides industry-leading service and innovative countertop solutions that routinely exceed customer expectations.
Jason Brown, Artisan Group Executive Director, commented, "It's been amazing to see the group evolve to be the preeminent best practice and buying group for the stone fabrication industry. We will continue to look for not just more members, but the right members to join the group."
The Artisan Group now counts over 50 shop locations in the US and Canada as part of its network.
Artisan Group™ is the premier network of stone fabricators in North America. Each Artisan member is an equal owner of the group. Its extensive network allows the confidential sharing of best practices with protected territories. The collaboration offers members the ability to offer the best granite, quartz and other materials from sources around the globe. Utilizing the most technically advanced, automated shops in the industry, highly skilled craftsmen ensure that each installation meets exacting standards. From classic to exotic, Artisan Group offers the most extensive array of stone choices in the industry, and is dedicated to customer service. For more information, visit www.artisan-counters.com .