McDermott Top Shop- A Legacy of Quality and Service
by Peter J. Marcucci
Photos  Courtesy McDermott Top Shop
When Ron McDermott opened the doors to his laminate and solid surface shop in 1995, those doors were the entryway into an airplane hangar. It was a mere 1,500 square feet, just big enough to get started, but was not "big enough" for very long. Ron's son, Travis, was just four years old at the time, and was fascinated by the things his dad was doing. You could say that Travis learned the business from the ground up.
As he grew up, Travis would spend time learning the hands-on and ins and outs of the operation while becoming a productive team member, recalled Executive Vice President, Travis McDermott. "After school, I would come to the shop to work or just hang out. I was always involved."
The company grew rapidly, and by 2005, an opportunity to fabricate countertops from natural stone and quartz had presented itself. As sales increased, so did the shop size, going through several iterations. It continued to get the job done, but not as efficiently as they wanted. During this time, Travis had gone off to college to become a civil engineer, a vocation that would be short-lived before coming back to the company full-time in 2015 to create a father-son team. Stone fabrication had taken precedence, and the McDermott Top Shop was full speed ahead to becoming a premier stone fabricator in the Jefferson, Wisconsin area.
Fast-forward to 2019, four years later. Another addition was necessary to keep up with the demand. However, this time the decision was made to build a new, well thought out, more efficient facility with a production line that could be easily expanded to accommodate future needs, said Travis. "The company's footprint was at 32,000 square feet between old and new. We did add another 18,000 square feet of slab storage in another hangar, but what we had wasn't really laid out for good flow, and it didn't make good sense to stay. So we ultimately decided to construct a new 65,000 square-foot building."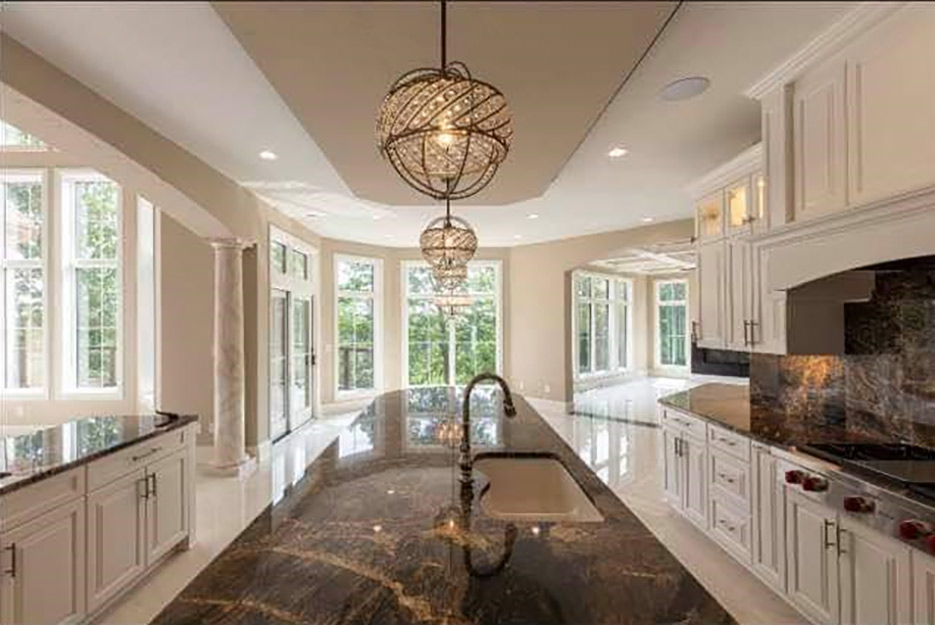 Lava Oro granite kitchen island, countertops and backsplash, produced and installed for a Wisconsin builder client who specializes in large-scale homes.
McDermott Top Shop offers a full spectrum of service from sales to installation to a wholesale-only market. The company works exclusively through local builders, home center stores, kitchen and bath dealers, and big box stores such as Home Depot, Lowe's, and IKEA. These types of sales do have many advantages from a marketing and sales perspective, explained Travis.
"We don't need to put as much effort into sales as a retailer would, but we do pay for it in different aspects. It's just a different way to choose how to operate. The way we look at it is that everyone is our customers, but our direct customers are the dealers who represent us and our products. From time to time, we do get people who call us directly, and then we refer them to one of our local partners. From the small mom-and-pop dealers, to the larger, multi-location dealers, to the box stores – these companies and these relationships are what our sales people are focused on."
Travis and company are also the newest members of the Artisan Group, an association of fabrication company owners from specific locations around the country who come together to share knowledge and solve problems. "We are new to the Artisan Group this year. I know a lot of excellent fabricators out there just from the other groups we are in, and the Artisan Group seems like a really great group of people. We've learned so much over the years from these relationships. They have helped us grow in what we do."
The McDermott Top Shop is located about an hour's drive west of Milwaukee. Travis explained that through their many dealers and box stores, the company's span of service covers all of Wisconsin, and extends from northern Illinois to southeastern Minnesota, and from eastern Iowa and all the way up to the Michigan Upper Peninsula. "It's a lot of drive time," he admitted.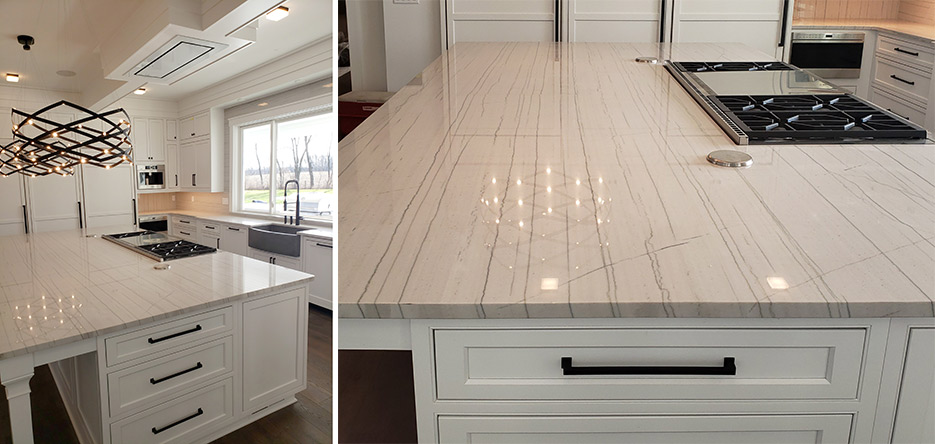 Above, right and above: White Macaubas Quartzite kitchen includes a built-in farmhouse sink, a full-height backsplash around the windows, and pop-ups on the large island. McDermott Top Shop used Slabsmith to align the veining in the island.

Good People Are Everything
Currently, the company has 105 team members, and produces an average of 1,200 square feet per day. Material sales consist of approximately 60% quartz, porcelain and Dekton, and 13% solid surface, with the remaining being a healthy mix of granite and marble. All materials are purchased from local vendors, mostly Dal-Tile, MSI and Cosentino.
At any one time there are 12 installation crews and two to three install subcontractors (as needed), 25 fabricators, 8 template/measure techs, with the remaining team members being office staff. "There's a lot to say about our people," continued Travis. "Being a family business is how my dad started this company. We've had a lot of growth, especially in the last couple of years, and have focused on trying to keep that family atmosphere. Monthly lunches, cookouts and rib cook-off competitions are common. We also do quarterly state-of-the-company meetings to let everyone know what we are working on, and how we are doing as a company. We also try to recognize all the individuals who are doing an outstanding job, because our continued success comes down to how well they are doing. We have a lot of new employees, but also many who have been with us for 10 and 20 years, from when I was young and playing around in the shop. They have seen the growth of the company, have been a big part of it, and we are fortunate for who we have. Dad and I can't do it all, and there's a large majority of stuff that they handle, because they are well trained and dedicated."
The company is also very involved with the local Chamber of Commerce, the sponsoring of local high school sports programs, and has implemented a Youth Apprenticeship Program that brings in youth from the high school, said Travis. "They work here part-time while they are finishing up their schooling. Some come back as full time employees when they graduate, and choose to stay, while others have future plans, but overall it's a good experience for them. We do enjoy being involved in the local community."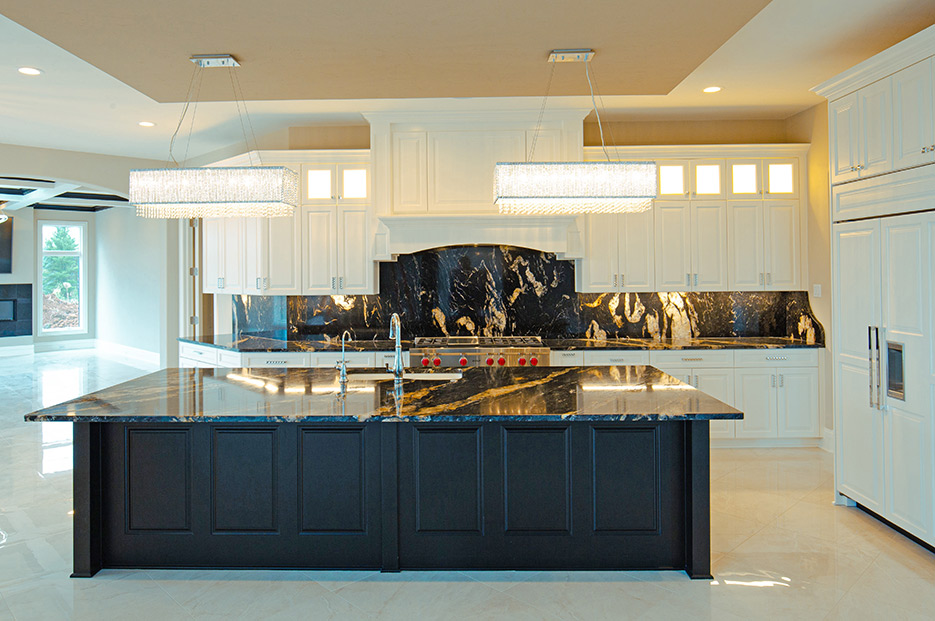 Above: Palatial, open-plan kitchen features a full-slab island and matching full-height splash of Titanium granite.
Below: Titanium granite bar and built-in entertainment center with backlit panels of Onyx.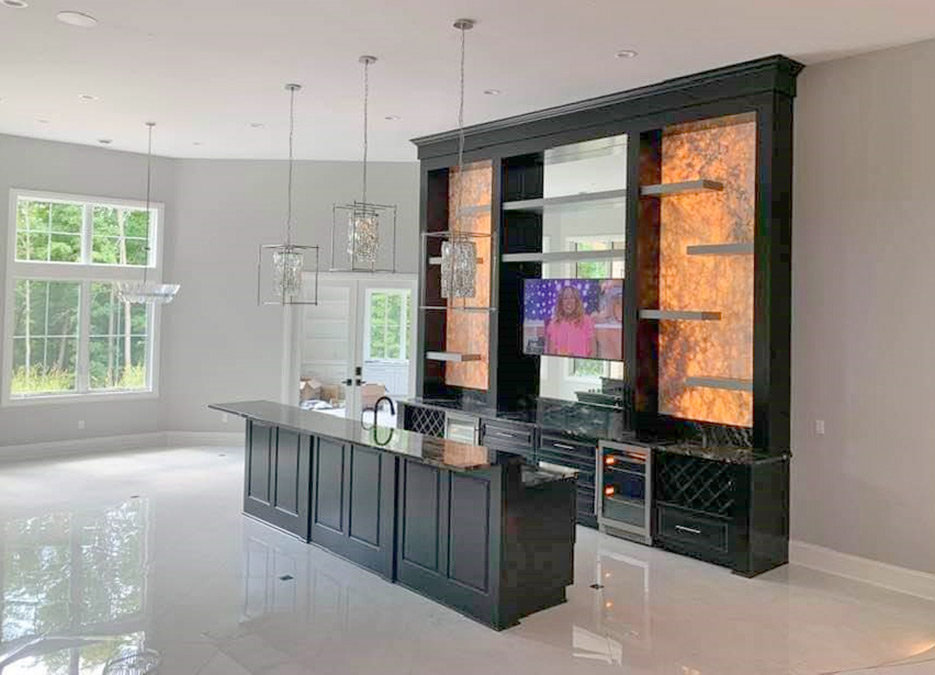 Below: White Carrara marble tub surround and matching vanity.

Plans for the Future
"We are focused on continuing to grow and getting better. I think that the countertop industry is moving in the right direction, from automation, to different equipment, to tooling. I'd like to keep expanding within the market that we serve, but potentially expand out of that market, too. The economy plays into part of that, and there's a lot of stuff in the news, but we've been pretty steady this year with good, consistent work. Overall, it's been a good couple of years, and our team did a really great job with it."
McDermott Top Shop is an OSHA Certified and accredited member of the Natural Stone Institute, as well as the Rockheads, the Artisan Group, the International Surface Fabricators Association, the Stone Fabricators Alliance, the Better Business Bureau, the National Association of the Remodeling Industry, and the Metropolitan Builders Association. They are also a valued and longtime customer of BB Industries.

For more information, please visit mcdermotttopshop.com .