Stone Restoration and Maintenance Corner – The Art of Cleaning and Polishing Marble
Bob Murrell
M3 Technologies
Photos by Bob Murrell
Marble, with its timeless beauty and elegance, has been cherished for centuries as a luxurious material used in architecture, sculpture, and design. From ancient Greek and Roman structures to modern-day buildings and interior spaces, marble continues to captivate our senses. However, to maintain its lustrous appearance and ensure its longevity, proper cleaning and polishing processes are crucial. In this article, we will explore the art of cleaning and polishing marble, unveiling techniques and products that will help you preserve its natural splendor.

Cleaning Marble: A Gentle Approach
Marble is a porous stone, susceptible to staining and damage if not cleaned with care. Harsh chemicals and abrasive materials can etch and/or scratch the surface, compromising its beauty. Therefore, when it comes to cleaning marble, a gentle approach is essential. Here are some key steps to follow:
Dusting: Begin by removing loose dirt and debris from the surface of the marble. Use a soft, dry cloth, a soft-bristled brush, or a vacuum to gently remove any foreign contaminants and particles. This prevents scratching during the cleaning process.
Mild Soap Solution: Prepare a cleaning solution by mixing a few drops of pH-neutral soap (Majestic No-Rinse pH Neutral Cleaner) with warm water. Avoid acidic or alkaline cleaners (except as directed by technical support) as they can damage the marble. Dip a soft cloth or mop into the solution and wring out any excess moisture. Gently wipe the marble surface, focusing on any stained or dirty areas. Rinse the cloth frequently and change the solution if it becomes visibly dirty. Keeping a clean solution is essential.
Stubborn Stains: Stubborn stains on the marble may require a more targeted approach. For organic stains like coffee or wine, create a poultice paste using Majestic Stain Poultice Powder and an appropriate liquid cleaner (based on the type of stain). Apply the paste to the stain, cover it with a plastic wrap, tape down the edges with blue tape, poke some holes in the plastic and let it sit for 24 hours or until the poultice is almost dry. Rinse off the paste and clean the area with the pH Neutral Cleaner solution. For oil-based stains, use a poultice made from a mixture of the Stain Poultice Powder and a degreaser (Majestic Deep Cleaner Degreaser), solvent like acetone or even hydrogen peroxide (40+ volume). Apply the poultice to the stain, cover it, and let it sit for 24-48 hours. Remove the poultice and clean the area with the pH Neutral Cleaner solution.
Drying: Once you have cleaned the marble, thoroughly dry the surface with a soft, absorbent cloth. Avoid leaving any moisture behind, as it can lead to water spots and damage.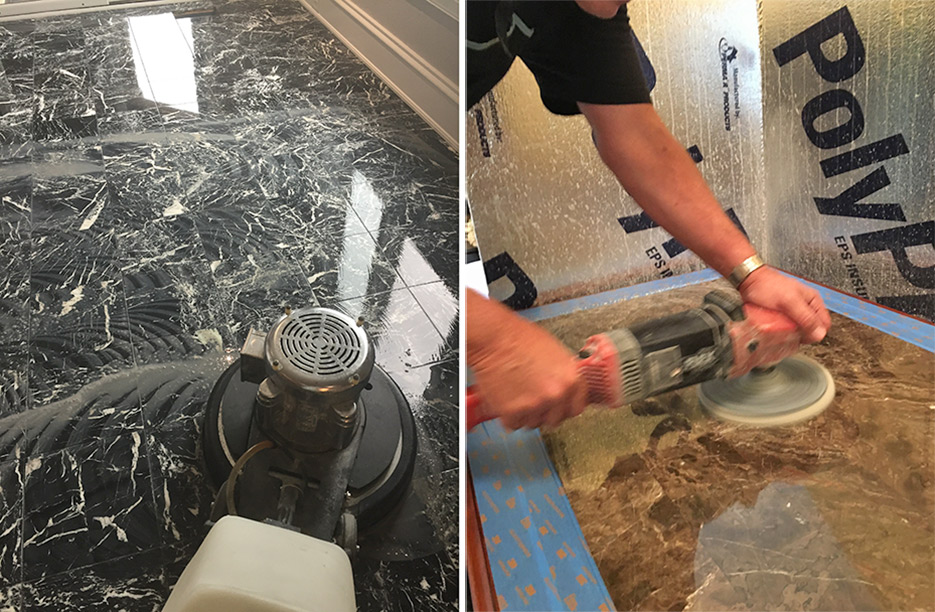 Left: Repolishing Black marble with Majestic 5X Gold.
Right: Repolishing a marble table top with 5X Gold and slow speed hand tool.

Polishing Marble: Restoring Its Radiance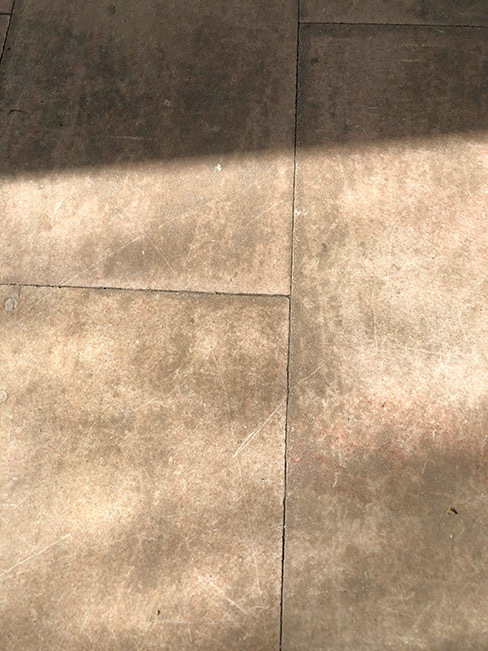 This Limestone flooring needed both cleaning and honing. Note the lippage at the corners, a common issue with many types of natural stone flooring.
Polishing marble enhances its natural beauty, giving it a glossy and reflective finish. Regular polishing helps maintain the luster and protects the stone from daily wear and tear. Here's how to polish marble effectively:
Honing: Before polishing, it is often necessary to hone the marble to remove any scratches, etches, or dull spots. This can be done using Majestic Honing Powder or diamond polishing pads. Follow the manufacturer's instructions carefully, and work the powder or pads in a circular motion over the marble surface. Rinse the marble thoroughly to remove any residue..
Apply polishing compound (Majestic 5X Gold, DiaBrite 10X, MPC, or XXX): Once the marble is honed, a polishing compound can be applied to achieve a high-gloss finish. Select a marble-specific polishing compound (my go-to is most always Majestic 5X Gold) and follow the instructions provided. Apply the compound to the marble surface using a soft cloth or a polishing pad. Work in small sections, moving in circular motions. Continue until the desired shine is achieved. Wet Vacuum the slurry, rinse and wet vacuum again. Complete large areas in a checkerboard fashion, overlapping areas to blend.
Buffing: After applying the polishing compound, use a clean, soft cloth or a buffing pad (I like to use a 12,000 grit PLP diamond impregnated pad) to buff the marble surface. This step helps remove any excess polish and enhances the shine. Again, work in circular motions and change the cloth or pad as needed.
Sealing: To protect polished marble and help prevent staining, it is essential to apply a high-quality marble impregnating sealer such as Majestic Low Odor Solvent Based Impregnating Sealer. This is especially true for areas that I consider to be subject to spillage and traffic. Kitchens, vending areas, countertops and vanities, and entryways should all be sealed, in my opinion. Always submit a test area to confirm both the results and procedure prior to general application.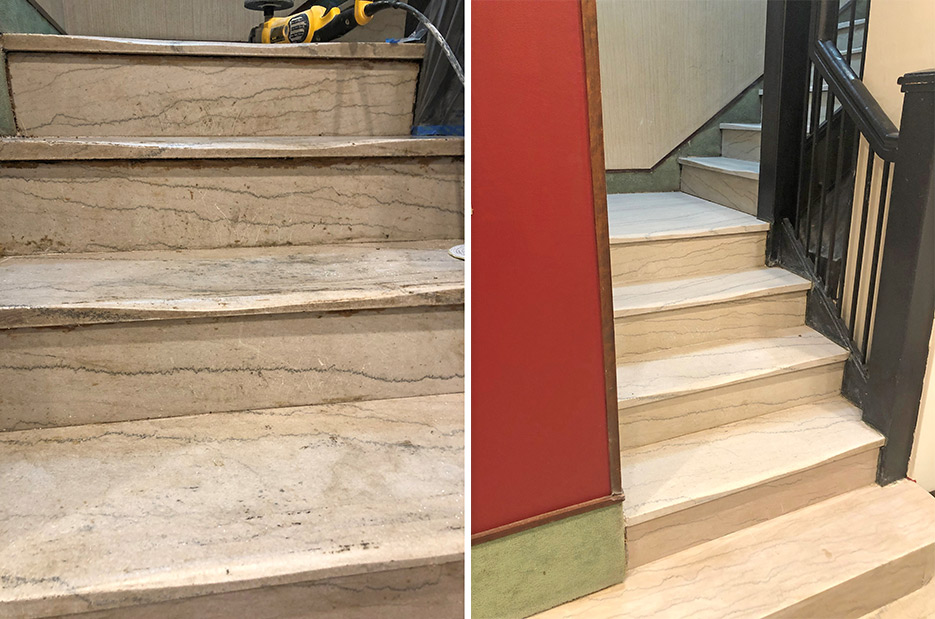 Before and After: Left, Marble stairs in dire need of stripping, cleaning, and honing.
Right: Marble stairs after refinishing.
Now for the good part. I have been intrigued by ChatGPT for some time now. If you are unfamiliar with this software, it is a variety of AI (artificial intelligence). I have been in Italy for the past few weeks and did not have access to my normal materials for this article as I normally do. So, I decided to give ChatGPT a try to help generate this one and, of course, made some finishing touches of my own. I found it very interesting and hope you do, as well. I wanted you all to know, so that's why I am telling you this. We are all in trouble! LOL. Think of all the things we can use this technology for. It boggles my mind!
Next month I will personally write my article as I normally do and may even include some of my findings from my recent (May) trip to Italy.
As always and before beginning any new project, I recommend submitting a test area to confirm the results and the procedure, prior to starting a stone or hard surface restoration/maintenance project. Also, the best way to help ensure success is by partnering with a good distributor, like BB Industries, that knows the business. They can help with technical support, product purchase decisions, logistics, and other pertinent project information.

Bob Murrell has worked in the natural stone industry for over 40 years and is well known for his expertise in natural stone, tile, and decorative concrete restoration and maintenance. He helped develop some of the main products and processes which revolutionized the industry, and is currently the Director of Operations for M3 Technologies.
Send your comments and questions to Bob at attn:publisher@slipperyrockgazette.net .