BBM's PALADIN CNC Breathes New Life into a Growing Fabrication Industry
by Peter J. Marcucci
Photos Courtesy Better Built Machines (BBM)
By the time you read this, BBM (Better Built Machines) will be celebrating its ten-year anniversary. The company was originally formed to refurbish all brands of CNC machines that had aged out of their usefulness. With each machine they updated, the company's technicians were able to evaluate and make note of any and all problems that had developed during their working life. When compiled, this working knowledge would eventually help BBM to develop better and tougher production standards, bulletproof mechanical systems and efficient software, all in a simpler, easier-to-maintain CNC package, recalled BBM Founder and President Bryan Johnson. "We were seeing the design flaws that we were repairing, over and over, and realized that if we took that knowledge from refurbishing, a better machine could be built, and we started designing our own CNC."
BBM is not an old company and, conversely, not the new kid on the block either, especially when considering that Johnson spent 17 years as a technician, installer, trainer, and parts and service manager with a major stone machine manufacturer, and then ten years on his own.
What is the new kid on the block, however, is BBM's PALADIN CNC– A super cool, state-of-the-art machine with a slew of features that any fab shop will wrap their arms around and adore for decades. Johnson recalled, "There were many failure points on the machines that we've worked on over the years, and we've seen these same points sit stagnant for the last seven years. I don't know if these big OEM's (original equipment manufacturers) simply refused to fix these problems or were just comfortable with the products that they sold, but because we refurbished so many CNCs, we knew that if the machine had so many hours on it and it was ten years old, we could predict every point of failure it would eventually have."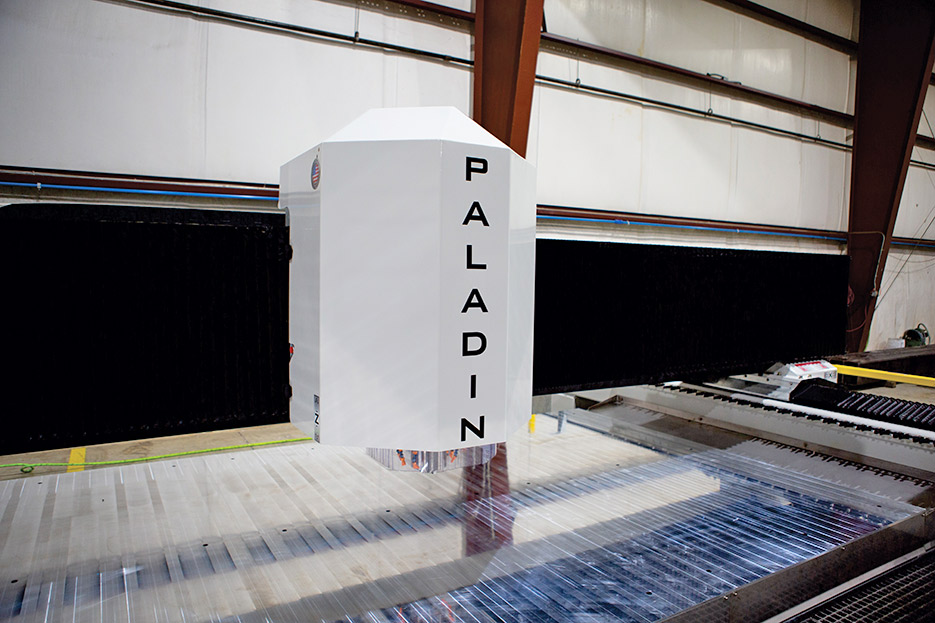 Above and Below: The PALADIN's sleek and simplistic design is unmatched in the industry of CNC stone routers. It was engineered for easy access and user-friendly operations.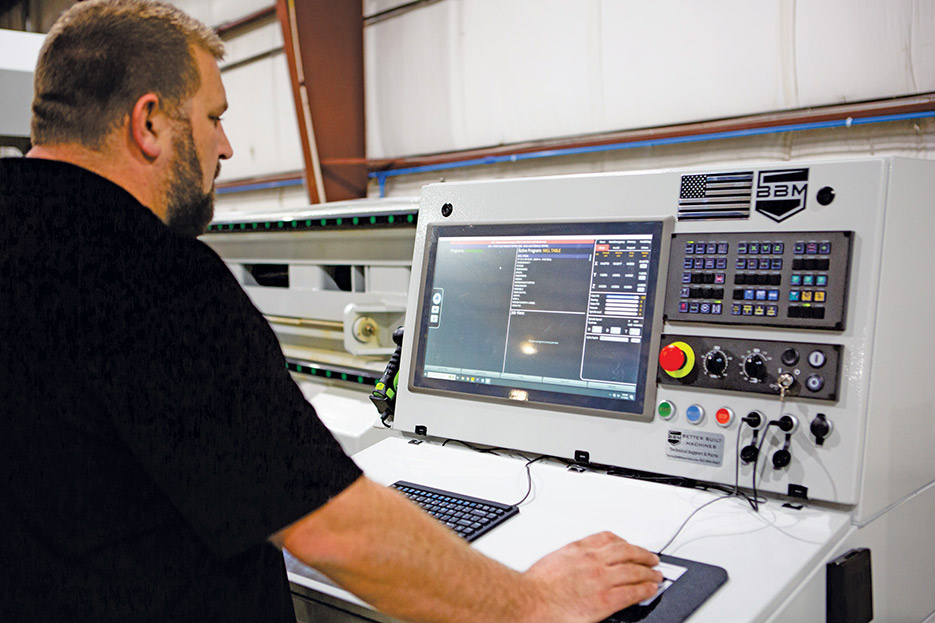 Features and Benefits of the PALADIN
During assembly, every PALADIN monobloc frame is constructed using half-inch steel. It is then put through a process called, "White Blast", where all mill scale and impurities are removed from the metal. A heavy zinc-based primer is then applied and left to dry. The next step is where a second, sealing primer is applied over the zinc in preparation for a final coat of a smooth, high gloss marine grade epoxy, adding a touch of pizzazz to each unit.

Above: The PALADIN's massive 14 x 8 foot table bed was carefully designed for ease of accessibility.
Below, Right: Operators can program their PALADIN to remember specific commands, improving productivity with one touch of a button.

Below, Left: Looking "under the hood." All wires, tubing, valves etc., are kept safely hidden from dust and slurry by easily removed covers.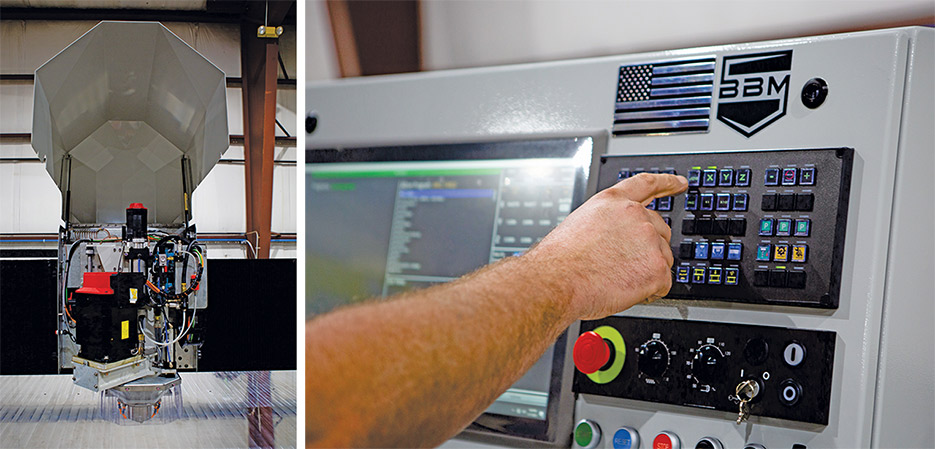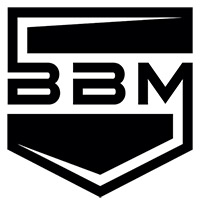 As for components used, many are upsized from standard sizes used by other manufacturers, adding massive durability to the PALADIN. BBM also took the time to protect these components with easily removable covers as well as a self-lubricating feature in friction areas, such as ball screws and bearings. Another notably cool feature is that every bearing everywhere is the same size, 45 mm. Gone are the days that different sized bearings sit on the shelf waiting to be used. "It's one-size-fits-all on the PALADIN," said Johnson, adding that as of December 2022, BBM began developing their own spindles. "We are the only manufacturer of CNC stone routers that makes its spindles in America. Originally, we were importing them from Italy, but due to supplier issues decided to build them in-house, to cut down lead times, control costs, improve quality and implement our design changes that needed to happen. Spindle issues are very predominant in the stone industry. You're cutting very solid materials and crashes happen. Our spindles are an upscale design with large bearings, and have a very unique pressurization system that keeps contamination out, allowing the spindle to last longer. To the fabricator, this means longer run time and less replacement costs."
Another very cool feature of the PALADIN is that all wires, tubing, valves etc., are kept safely hidden from dust and slurry by easily removed covers and bellows, as well as being non-obstructive to operator movement. Additionally, BBM's designers thought long and hard on limiting components, explained Johnson. "One of our favorite things at BBM is keeping components to a minimum. Less or simpler components equals less things to go wrong and easier maintenance, and the easier the maintenance the more likely it will get done. We knew what the PALADIN needed to do, and built it with the least amount of components to do it." As a plus and the icing on the cake, so to speak, is that the PALADIN uses only Fanuc Motion Control Systems, the number one control system in the world, boasting a whopping four million control systems installed worldwide.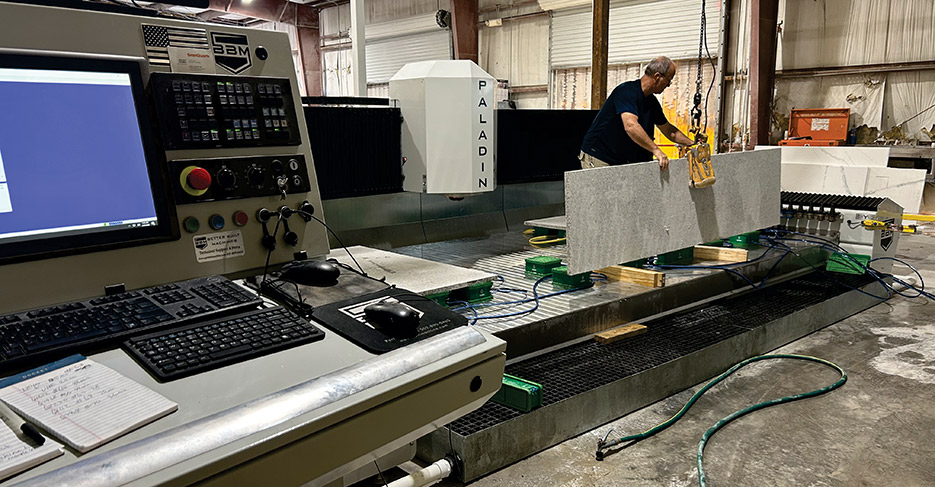 A fabricator at Distinctive Surfaces of Florida effortlessly loads a countertop onto the PALADIN's large table bed, which is free of safety cables that can get in the way. The PALADIN is, instead, equipped with a safety laser, improving accessibility.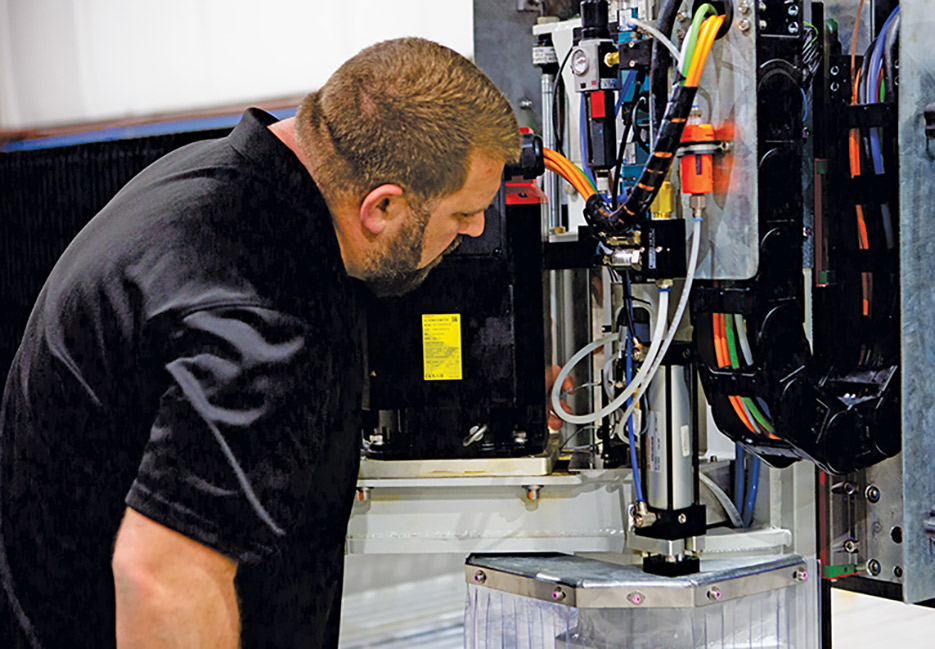 Below, Left and Above: Maintenance made easy! You can access the PALADIN's main components by simply lifting its hood.
Below, Right: The PALADIN comes standard with 44 position tool holders.
Below, From Left: Gino Scolari, owner of Scolari Marble & Granite, and Gino Scolari Jr., proudly pose with their first-ever CNC stone router. Their shop has made the transition from hand fabrication to automation with the PALADIN.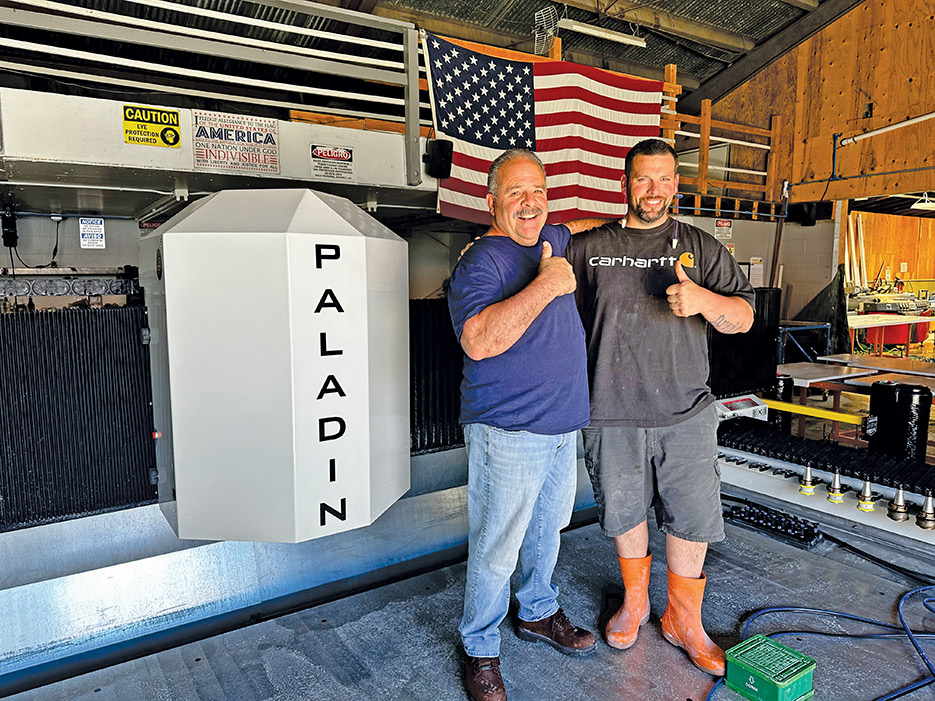 Training and Support
Initial training can consist of online tutorials, while the remaining training is done in the customer's shop, doing real jobs, after the PALADIN goes live. "There are a lot of people in the industry who are completely afraid of a CNC machine," continued Johnson. "They don't understand them and think they are hard to run and complicated. So we designed software more suitable for beginner users, so they are not afraid to run our machine. It's called "Commander Software," and it's more intuitive, easier to run, updates automatically and is more catered to this industry. It is truly state-of-the-art."
Although rare, any trouble that may arise with PALADIN, BBM has it covered, he continued. "Our technical support system is available 24/7. We also have nine fulltime technicians available to visit the customer within 24 hours. We currently stock over a million dollars of parts, and if the customer is able to do the fix themselves, we can next-day ship parts up to until nine o'clock at night. We are still a service company and now we are a CNC manufacturer, and we pride ourselves on our service. Even if it takes me, the owner, going out in the field to fix it, I'll grab my tool box and fly out there. Our goal is to do whatever it takes to get the customer's PALADIN up and running as soon as possible."
When asked what's up and coming, Johnson said that a new 60,000 square-foot production facility will break ground in 2024, and that a few exciting new products are in the pipeline, but could not comment on what they were.
In closing, the first PALADIN was delivered on May 21, 2022, and as of this writing, just 16 months later; 35 machines are in operation nationally. All PALADIN CNCs are made in Shelbyville, Kentucky, and are available nationally and in Canada and Mexico.

BBM is a member of the National Stone Institute, the Stone Fabricators Alliance and the Shelby County Chamber of Commerce.

For more information visit www.bbmmachine.com or call 502-890-0463.