Fifth Gear Technologies Launches SPEEDfolder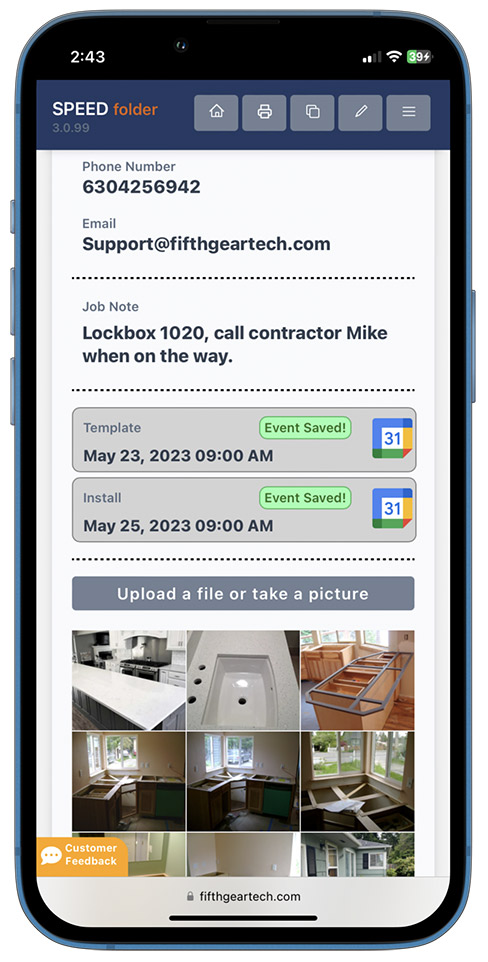 The new SPEEDfolder is a simple and free solution for photo capture, job organization, and Google Calendar integration.
Fifth Gear Technologies, a leading provider of software solutions for the Countertop Industry, proudly introduces SPEEDfolder, an innovative application designed to transform how countertop businesses manage photos, organize job details, and seamlessly integrate with Google Calendar. Best of all, SPEEDfolder is offered completely free of charge, with an unlimited number of users.
Thanks to the generous support of industry sponsors who want to see fabricators succeed, SPEEDfolder is available at no charge to fabricators.SPEEDfolder offers the following key features for countertop fabricators:
Photo Capture and Storage: SPEEDfolder revolutionizes photo management by providing a convenient platform for capturing and storing job site photos. From on-site progress images to specific project details, all photos can be securely organized within SPEEDfolder, ensuring easy access and efficient documentation for every job. Centralized Job Details in the Cloud: With SPEEDfolder, countertop businesses can consolidate all job-related information in one place. From customer details to hand or digital drawings, every critical aspect of the job can be stored and accessed within the application. This eliminates the need for multiple tools or manual processes, saving time and reducing errors.
Google Calendar Integration: SPEEDfolder seamlessly integrates with Google Calendar, enhancing job scheduling and coordination. Job events in Google Calendar, such as Measure and Install, are automatically populated with all relevant job information from SPEEDfolder. This integration eliminates re-typing and minimizes mistakes, ensuring accurate and comprehensive job management.
By combining photo capture and storage, centralized job details, and seamless integration with Google Calendar, SPEEDfolder empowers businesses to streamline their processes, enhance collaboration, and optimize their operations.
With this comprehensive solution, businesses can capture every aspect of the job, keep all job details in one organized place, and efficiently schedule and manage events through Google Calendar. Best of all it's simple and free.

To learn more about SPEEDfolder and its transformative capabilities, please visit www.speedfolder.com .

Fifth Gear Technologies is a leading provider of solutions such as SPEEDlabel and ETemplate for the countertop industry. With a focus on innovation, quality, and customer service, Fifth Gear Technologies strives to provide products and software that help Fabricators improve their processes, delight their customers, and reach their businesses goals.