Braxton-Bragg and WerkMaster Team Up To Offer Joint Training Seminar
WerkMaster and Braxton-Bragg have teamed up to offer first-class instruction in concrete surface preparation and polishing. The first 3-day, hands-on seminar hosted at Braxton-Bragg's Knoxville, TN facilities provided each attendee with a working knowledge of start-to-finish floor prep and polishing using WerkMaster Machines and WerkMaster diamond tooling.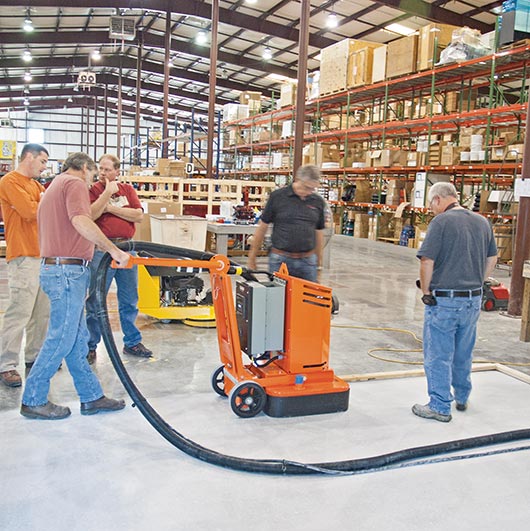 "I was very happy with our first joint class with Braxton-Bragg," stated Brian Wilson, President of Werkmaster. "It is an excellent facility and Kurt Alexander's enthusiasm and professionalism in conducting the class will go a long way to ensure both WerkMaster's and Braxton-Bragg's customers will leave with a high degree of knowledge and satisfaction."
"WerkMaster has been a great partner, as we expand our concrete division offerings," commented Rich Hassert, President, Braxton-Bragg. "We look forward to continued collaboration with them, especially following the successful International Concrete Polishing and Staining Conference in October, where we shared a booth with WerkMaster to demo their excellent equipment."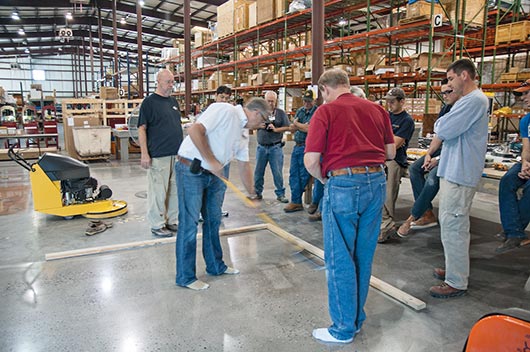 Brian Wilson, President of WerkMaster also presented a class on Estimating and Job Costing at the ICPS conference, which was held at the spacious Gwinnett Conference Center, in Atlanta, GA, on October 11-14th.
Over 20,000 sf of exhibit and conference space was reserved, as well as a large tented demonstration area in the adjacent parking lot. Braxton-Bragg and WerkMaster demonstrated tooling and machines in the outdoor space.
For more information on the ICPSC visit the website at http://www.icpsc365.com
About WerkMaster™
WerkMaster™ is proud to be one of the most innovative and effective manufacturers of award winning concrete surface preparation equipment, stone, terrazzo and polished concrete equipment as well as hardwood floor refinishing machines.
If you are looking to learn how to polish marble or polish granite, WerkMaster has a system for you.
WerkMaster's floor finishing and countertop tools are really 7 Machines in 1: Edger, Polisher, Grinder, Buffer, Burnisher, Sander and Stripper that edge to within 1/8˝
(3mm) of the wall. The Scarab's unique design edges right to the wall.
Visit Werkmaster at http://www.werkmaster.com/
About Braxton-Bragg LLC
Braxton-Bragg has been distributing products and services to stone fabricating, concrete and stone countertop and floor refinishing contractors since 1995. Braxton-Bragg's exclusive and unique Customer Bill of Rights guarantees customers will experience the best service, support, warranties, delivery and satisfaction.
For more information call braxton-Bragg's toll-free number, 1-800-575-4401 or visit the website www.braxton-bragg.com.