Schoodic Sculptures Placed for 2012
by Peter J. Marcucci
Photos by Peter Marcucci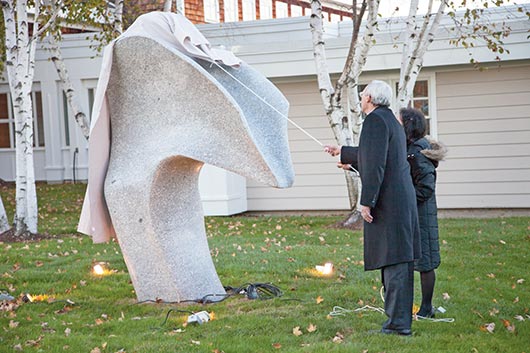 As I drove through the 6am darkness on I-95 it was just me, my voice recorder, and postcard perfect images of autumn Maine coming to light, traveling southbound towards home.
With many hours of driving to go, I remained both blissful and engaged in vivid thoughts of the people I met and the events I had witnessed two days before.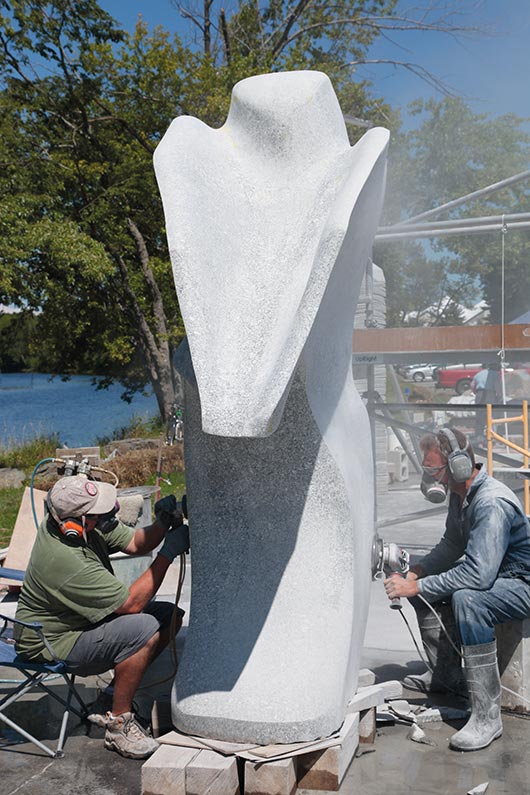 The event had been over two years in the making as the 2012 Schoodic International Sculpture Symposium hosted by the University of Maine, Orono, concluded in Bangor, Maine on Thursday, October 11 with the unveiling of two sculptures in their final settings.
With Schoodic Symposium Art Director Jesse Salisbury and Project Director Tilan Langley both present, the first of two unveilings for that day was the early afternoon presentation of Japanese artist Koichi Ogino's "Camel Country" at the Bangor Waterfront.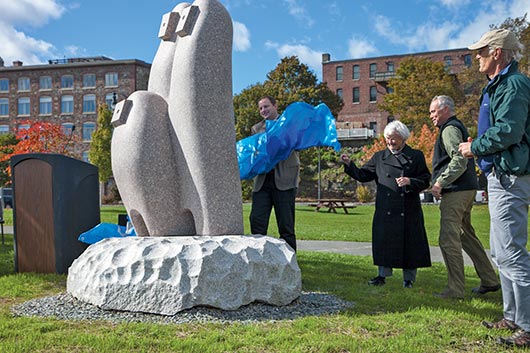 Much later in the afternoon, the presentation of "Zephyr," a sculpture by Maine artist Andreas von Huene took place at Bangor's Acadia Hospital.
It was with both flair and poise that von Huene framed his own personal narrative of motivation and techniques to a jubilant audience of hospital staff, sponsors and University of Maine faculty.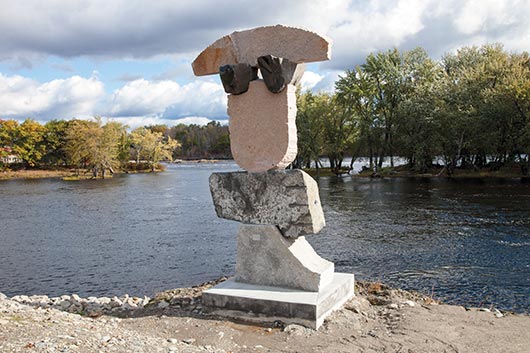 The event then concluded outdoors with "Zephyr" being unveiled in a grand gala fashion, making it clear to all who had given so much for so long that their hard-earned efforts had been brought to fruition. The rewards were satisfying — and the takeaway was now complete.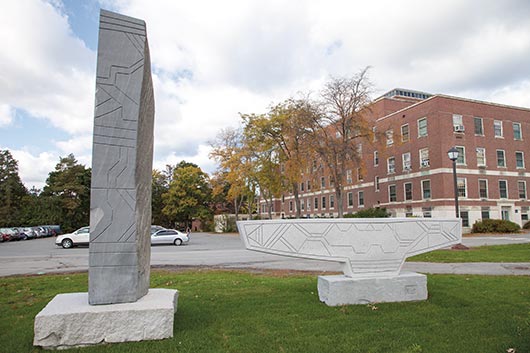 According to the records, the first symposium took place in 1959 at an abandoned marble quarry in Austria.
Noting great success by its founders, the symposium continued throughout Europe and Asia, giving its artists the opportunity to gain new skills and techniques and to enrich their worldly perspective by experiencing new customs and cultures from each year's hosting country.
In its present form, both the first and second Schoodic International Sculpture Symposiums were held in the Schoodic section of Acadia National Park in Maine in 2007 and 2009.
In 2011, the symposium was moved to Prospect Harbor, Maine, a town located on the Schoodic Peninsula (see Slippery Rock Gazette online archives, October 2012 issue, pages 27-28 for more details).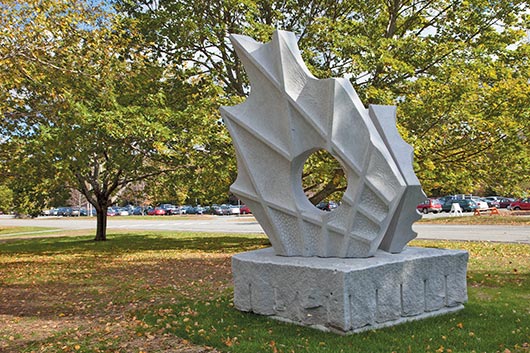 According to Tilan Langley, both prior locations were excellent, but this year's symposium was by far the best.
"When the 2011 symposium ended, we quickly had to recalibrate, reset, and plan logistically the details of this one," she explained.
"The event is biennial and does take up to two years to process and host each one, but we only had one year to plan for this one. So once the 2011 was complete, we immediately began planning for 2012.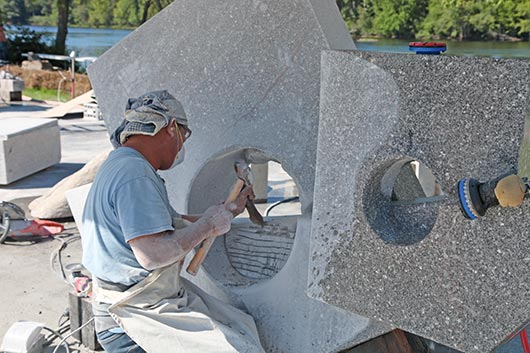 It was a compressed timeline, and there were more artists this time than we've ever had before.
Partnering with an academic institution (University of Maine) this year was a phenomenal opportunity for us in so many ways, but the biggest opportunity was to make a deeper connection with the university students and within Maine itself."
With the groundwork beginning in 2010 by University of Maine Board of Directors Chairman Don Howard and alumna and Board member Ms. Gerry Williams, the 2012 symposium was not only the first to be held on the University of Maine Campus in Orono, Maine, it was also the largest symposium to date, explained Tilan.
"We had sculpture classes, and it provided insight into how the symposium could continue beyond its current mission, which ends in 2014. It also created an opportunity for us to see how we could become more mobile. The artwork this year was amazing, and there have been a lot of lessons learned."
With eight of some of the world's finest artists having been slated for the 2012 symposium, both Tilan and Art Director Jesse Salisbury realized that it wasn't going to be easy to create sculptures on the Schoodic Peninsula and then transport so many so far outside that region.
So the idea of bringing the symposium to the university was born out of a suggestion from school employee Elaine Clark who expressed interest in bringing sculpture to the School.
"We evaluated it and came up with a plan to bring the next symposium on site at the university about three years ago," Tilan explained, "but the effort really ramped up in September 2011.
I'm very happy with the results, and it is more than I envisioned. I look back at each artist and the talent that we had this year — and I'm blown away!
Every symposium is different, and last year we had some phenomenal artists, but this year, the University of Maine's setting in conjunction with the whole expanse of the symposium and the capacity that we have when putting those together provided such an amazing backdrop to support the artists.
"I feel we did the very best we could to provide the opportunity for them to focus on their work, and I think that had an effect on the final quality. It's a project that has so much more potential than what it has already achieved. Just the idea of creating public art in this way is pretty unique.
"The next symposium is the fifth and technically the last of our ten year mission. So where is it going to go after that? We're not sure. We will have to think about what happens after that."
Looking into the future, Tilan explained that the sculpture trail after 2014 will be pretty amazing, and it will be the full story of the whole organization and what it is all about. "I'm eager to see that! We all hope the symposium has a chance to come to its full breadth."
According to Jesse Salisbury, the call for entries to the next group of artists for the 2014 symposium will go out in September of 2013. Artists will then have until the end of fall to present their applications, and final selections will be made January 2014.
Sculptors interested in applying for the 2014 Schoodic International Sculpture Symposium should visit the AIESM.com website, (International Association for Monumental Sculpture Events) or the Sculpture Magazine website.