Lens on Success
Artistic Granite and Marble Takes Craftsmanship to the Next Level
by Peter J. Marcucci
Photos by Aaron Gilson (mouse over images for more info)
Striking a perfect blend of technology with old world artisan standards, Artistic Granite and Marble continues to push the boundaries of fabrication.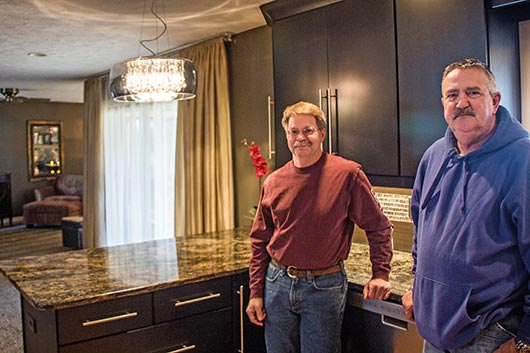 When Ron Brown, owner of Artistic Granite and Marble of Nicholasville, Kentucky, opened the doors in 2002, he did so with 15 years as a homebuilder under his tool belt and a simple, well-defined business plan in hand: take on as much work as possible and Just Do It!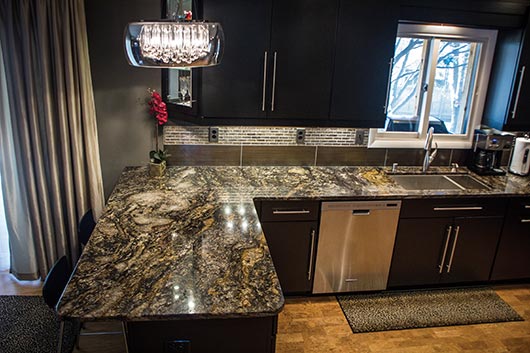 And why not – new home construction was booming, and making the jump from builder to stone fabricator seemed like an easy fit for a guy with years of quality credentials and a reputation of trust among clients as well as peers.
Brown does admit to being burned out from fifteen years of homebuilding and says that it seemed like the perfect time to transition into a new line of work.
So with steely discipline and determination, he jumped into the stone fabrication market by opening the doors of Artistic Granite and Marble.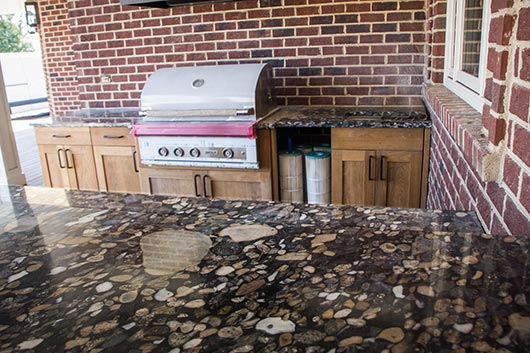 "In the beginning I realized the need for a fabrication company that did custom work," Brown said.
"So I bought some slabs and fabricated my first three kitchens in the garages of the homes I was building using only a track saw combined with hand cutting, and had fun doing it!"
Brown went on to explain that when area builders had seen what he had done, they wondered why they couldn't get that level of work for their homes.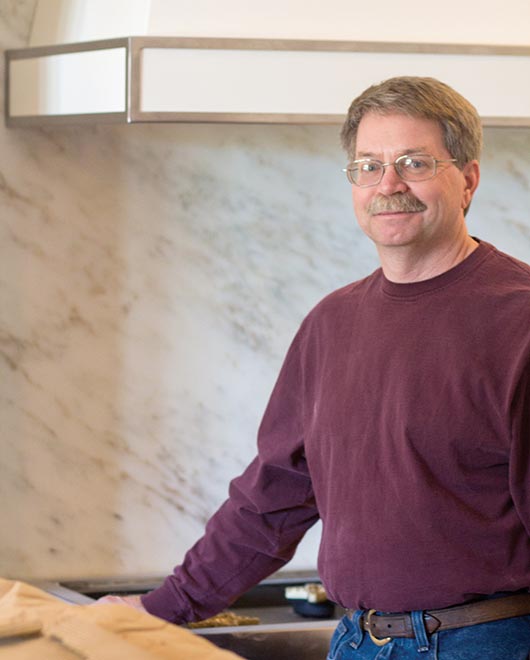 Then, many month later when he initially started fabrication as a business by doing fabrication for other builders, it was mostly new construction.
"All the builders in the area knew and trusted me," he remarked, "and fabrication work just snowballed after that. That's pretty much how we got started."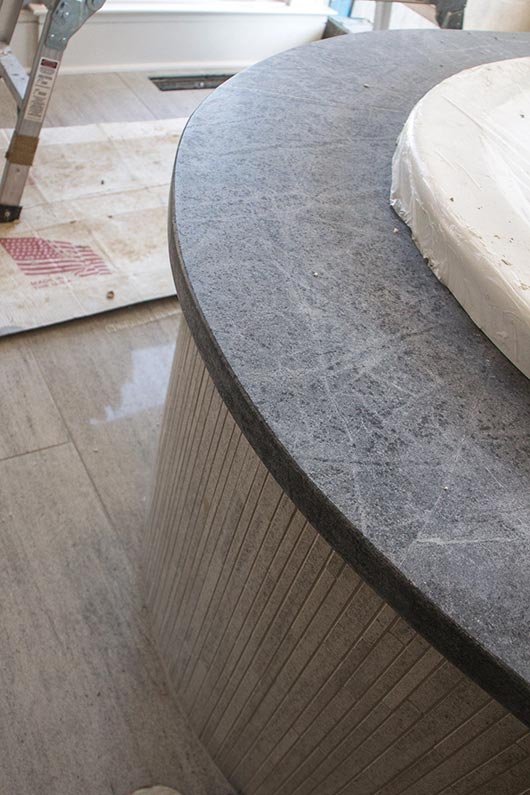 Schooled in mechanical engineering, Brown was originally a design engineer for Texas Instruments and admits to like doing things hi-tech.
From the beginning he produced work that seemed too complex for other fabricators in the area, and quickly realized that there was a lot of volume in the area and, even though it was a big expense, went ahead and bought a CNC and waterjet.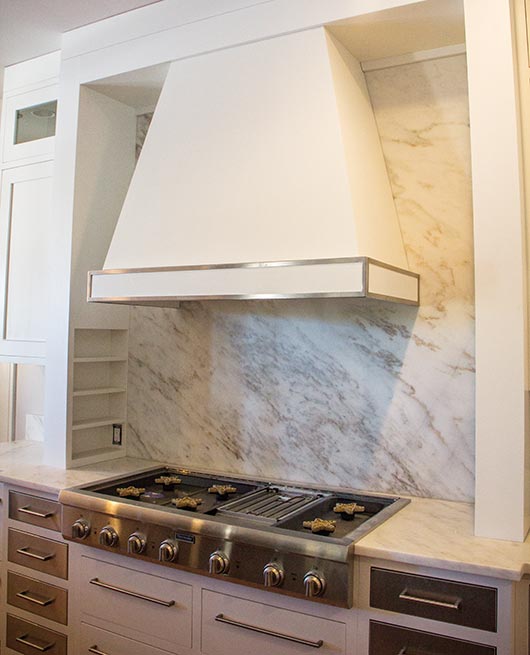 "We were fortunate to have started right around the time that the granite business had exploded, and we were the first shop in the area [Lexington] to use CNC and one of the original few in Kentucky to employ the use of waterjet technology in stone fabrication.
Around that same time, fabrication just exploded and we watched our volume double each year for those first three years.
We were running wide open and putting out as much as we could back then, even working two shifts through 2006-07.
We were doing all we could to keep up with our commitments, but unfortunately we were still turning down about $10,000 worth of work per week."
Brown was forthcoming about praising his small but loyal and efficient staff of six employees consisting of one office person, two installers and three shop employees. "Over the years we've had very little employee turnover.

They are all excellent people who are truly professionals in this trade and understand that the value of a strong individual work ethic when combined with a team effort is the key to success."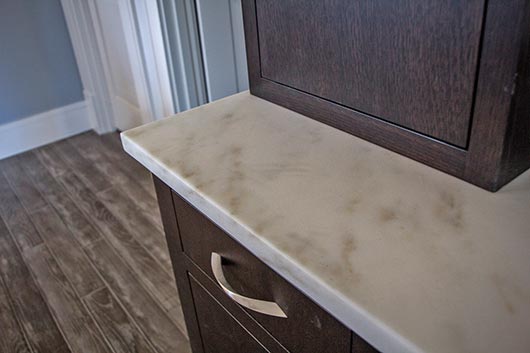 Brown also went on to explain that his company's success is also due in part to electronic templating using Laser Products Industries LT-55.
"This laser is very easy to use, and you are in and out of the client's home in a third of the time it would have taken to make wood templates.
You just show up, set up, record the coordinates, and within ten minutes of returning to the shop, our waterjet or CNC is cutting it.
All countertops are then edged with a router and hand polished while splashes are cut on our bridge saw."
Notably at this point, Brown also praised Braxton-Bragg for their many years of committed service to his company.
"I've been a Braxton-Bragg customer from the beginning, and it's been a great relationship.
They are so fast on their deliveries. I can order something at 4:30 in the afternoon and have it here by noon the next day most times with just ground shipping. I get great selection and service, and most of the time they have the best price of anyone."
He then touched on one last point of success by stressing the importance of the layout of his shop and slab storage area.
The 10,000 sq ft of floor space under one roof is fully served by an array of strategically located, 3-axis overhead cranes that safely and efficiently facilitate the movement of slabs throughout the production process.
Mostly working with materials of 3cm, Brown said that on average he usually inventories 500-600 slabs at any time with most being bought through local suppliers. Purchasing locally, he says, allows him to see exactly what he is getting.
He added that 3,000 sq ft per month in countertop production is Artistic Granite and Marble's average output.
"Big homes in our area are making a comeback and are helping to improve our margins. We saw a 40% increase in profits last year due mainly to these larger homes.
Typically our installations are within a 60 mile radius with 70% of the work being in Lexington.
We are very busy right now with an average lead time of 15 kitchens on any given day. Most of the homes we service range from two hundred thousand to three million dollars with the average home being about a million dollars."
Brown went on to point out that he still thinks like a builder and knows all too well what they go through day-to-day.
"I still see new home construction from their point of view and have been in their situations many times.
Circumstances like 'we've got a closing tomorrow and a few things have gone wrong and we need your countertops installed in 24 hours.' Our builders know that if they get into a bind we will put in the hours, be it nights, weekends, or even holidays to give them a quick turnaround so they can fulfill their obligations to their clients. We are committed to producing the finest product possible in as quick a time frame as humanly possible.

We are also committed to spending as much time as needed with clients who need to see how their kitchen will look when it's finished. We will open up their slabs and invite them in to discuss seam locations and focal points for the most desired areas of those slabs."
When asked about what the future holds for Artistic Granite and Marble, Brown stated with confidence that he's 54 years old and happy where the company is at and happy with the volume and not looking to grow any larger."
"I am your typical engineer but certainly not a salesmen," he remarked, "but I try to make up for it by just producing higher quality products than anyone else, and so far we've never been out of work, even in the slow times.
The use of technology and paying attention to detail has kept us in the game and profitable, and that has allowed us to keep our most valued asset year after year: our employees.
We don't have a showroom at this time, and honestly, I really don't see one in our future due to the fact that most of our clients are builders. We have so much consistent loyal business, that we just focus on taking care of our established accounts. We also don't advertise.
Our business is and has been built by word of mouth, and in the future we will be working smarter and not harder to increase our margins."