Florim USA Introduces "Jewel" Porcelain Stone-Look Tile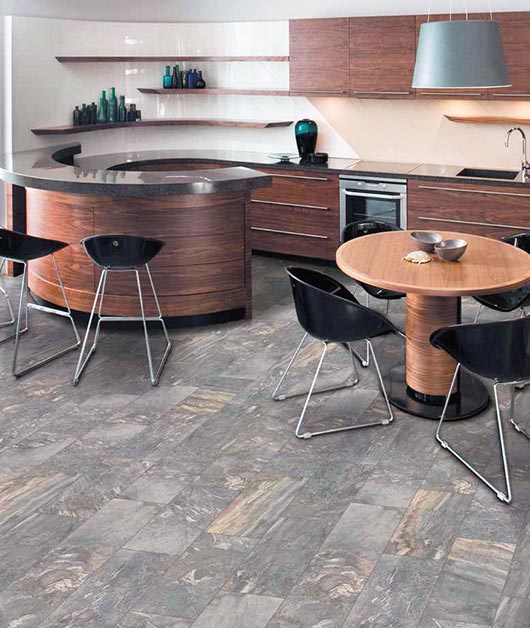 Florim's "Jewel" is a true gem of glazed porcelain tile. It is produced with cutting-edge High Definition Graphic (HDG) Technology which results in a natural stone look so real, seasoned geologists will be taking second and third glances to believe this is a man-made material!
Available in five unique colors (Petrolio, Noce, Beige, Grigio, and Silver), Jewel is presented in five size formats, all available with coordinating trim pieces. The 18˝x18˝ and 12˝x24˝ sizes are available either as pressed format with a natural finish… or, a rectified format with a semi-polished finish. The 18˝x36˝ rectified size represents a new large format produced by Florim USA.
Made in America by American workers, Jewel tiles with a natural finish have a Dynamic Coefficient of Friction (DCOF) rating of >0.42, which makes the range an ideal choice for nearly any application (residential/commercial and indoor/outdoor). Jewel also contains 40% recycled content; therefore projects specified with this exquisite new tile are eligible for LEED points.
Stefano Rabaioli, Vice President of Sales & Marketing, Florim USA stated, "People in the United States are big fans of having natural stone installed in bathrooms, both commercial and residential.
Many of the beautiful stones in demand are really not suitable for these projects, as they are too soft and have a high porosity level, which means they become water-absorbent and soon will deteriorate.
Jewel tiles are as durable as the strongest granite… and, they are even more non-porous.
When selected, the result is a beautiful installation with a stone look as realistic as can be found, that is strong enough to endure the rigors of time. And unlike natural stone, porcelain tile never needs sealing. We feel this is an ideal product for any kind of 'wet area' tile installation."
To find out more about Florim USA, visit the website: www.florimusa.com or call 1.877-FLORIM 1.