Top 12 Installation Products That Help You Get It Done
Peter J. Marcucci
Special Contributor
IN the April Slippery Rock issue we featured an in-depth look at Omni Cubed, Inc. and their superb line of products. We also featured "What Makes a Good Installation," a compilation of viewpoints from three longtime experts in fabrication.
Both stories were eye-opening and educational for me as well as many others. So, as a supplement to the overwhelming positive response to both of these features, both Publisher and Editor felt a follow-up list of Braxton-Bragg's best installation products was in order. The following are just a few of those products.
---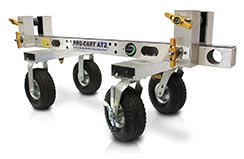 Omni Cubed AT-2 Slab Cart
Lightweight yet strong, this award-winning cart offered by Omni Cubed is just the ticket for the day-to-day transport of slab counter tops into a client's home or business safely and efficiently. Constructed of aluminum and utilizing pneumatic casters, the Omni Cubed AT-2 Slab Cart is engineered with safety, as well as convenience in mind and will save you time and money on installation day.
---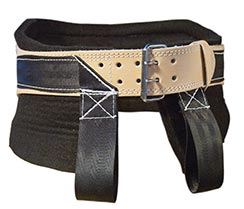 SME Slab Belts
Installers, how many times have you pulled up to a job site with a 3cm, full slab island only to find out that every tradesman and his brother have been there since half past dark thirty, hard at work – everywhere. Drive and walkways half done – sprinkler trenches dug – masons and mixers hard at it, and mounds of dirt everywhere else?
Need I say more? And unless you've got a helicopter or crane on standby, it's probably time to get out the SME Slab Belts.
What?—No SME Slab Belts, you say? Time to call Braxton-Bragg and order a pair. They'll save your back, and are also great for unloading from truck to street level.
---


Stone Pro SR2 Vacuum Support Rail System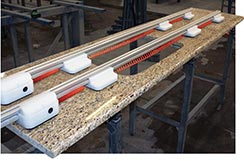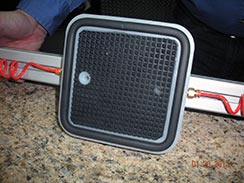 This innovative new SR2 Vacuum Support Rail System by Stone Pro is a lightweight, double rail, stiffening device engineered from the ground up to get any polished or textured surface countertop safely to the job and onto client's cabinet without breaking.

The SR2 features eight 12 volt powered vacuum cups that slide along two 7´ aluminum rails that allow the user to adjust to any configuration or situation.
An essential tool, the Stone Pro SR2 Vacuum Support Rail System will pay for itself after preventing just one needless break.
---
Stone Pro Carry Clamps
What can I say? In the shop or at the job site, carry clamps are also an essential tool for any installer/fabricator to have ready.
Rated at 350 lbs. each, Stone Pro Carry Clamps offer the user a safe, non-slip clamp that will tackle the most difficult of circumstances with ease. And when combined with any of the installation products mentioned above, you will have every hand-carry situation under control.
Stone Pro Carry Clamps are an installer's best friend.
---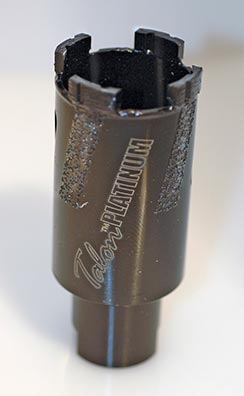 Talon™ Premium Dry Core Bits
Every year the use of reverse osmosis, garbage disposals and pop-up electrical outlets grows considerably and require the custom placement of controls during installation.
Talon™ Premium Dry Core Bits are designed to run dry at 10,000 RPM and will cut their way through granites quickly with little or no chipping. Built to last, these core bits are available in 6 sizes ranging from 1˝ to 2˝.
---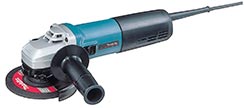 Makita® 9565CV Variable Speed 5˝ Right Angle Grinder
Be it dry cutting, grinding, polishing or core drilling, the Makita® 9565CV Variable Speed Right Angle Grinder is a handful of precision power that easily copes with the day-to-day rigors of stone work. Synonymous with quality for years, Makita® has created a safe, long-lasting, multi-use hand tool that offers speeds from 2,800-10,500 RPM and SJS anti kickback technology. Perfect for that missed polished edge or final jobsite trimming, and backed by a limited one-year factory warranty, this long-lasting tool is a great choice for your tool arsenal.
---
Viper Elite® Turbo Diamond Saw Blades
Super fast and durable, Viper Elite® Turbo Diamond Saw Blades were born to dry cut! Accurately pre-drilled to allow EZ mounting on a flush cut adapter, these 4-1/2˝ and 5˝ blades utilize a matrix designed to efficiently release worn-out diamonds while exposing the new ones.
This robust segment design is also complimented by an array of strategically placed cooling holes, creating unparalleled heat dispersion, allowing them to keep their cool and their edge.
When mounted to the Flex Variable Speed Right Angle Grinder above, it offers a 1-2 punch to a successful installation.
---
Sink Setters
Why use ugly wood or angled metal to hold that heavy cast iron sink when one of four fully adjustable Sink Setter adjustable frames will get the job done cleanly and efficiently. No painting—no shimming—no nothin'.
Just simply mount a Sink Setter per the instructions and you're done!
---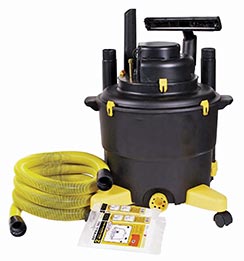 Dustless Technologies Wet/Dry Vacuum
If you've been dry cutting inside or just trying to clean up your mess from a successful installation, this 16 gallon wet/dry vacuum from Dustless Technologies is just the ticket.
At a quiet 81db, this unit features a machine washable double filter that sifts out superfine dust to 0.5 micron, while giving the user the power needed to clean up fast!
Also great at removing liquids, this vac has all the tools necessary to bring you to the finish line.
---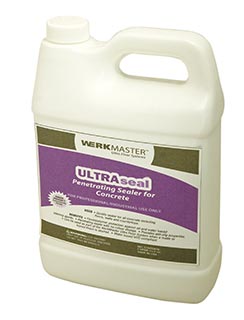 WerkMaster UltraSeal
And to seal the deal, finish by laying on a coat of UltraSeal before you leave. U.V. stable and easy to apply, Ultraseal will protect against water-, oil-, and acid-based substances.
Protect your client's investment and show 'em you're a professional.
Oh — and don't forget to pick up the check on the way out.
---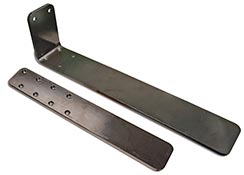 InnoTops I-Brace Floating Countertop Support
Drilled, countersunk and painted, the I-Brace by InnoTops is the easy and safe solution to support countertop overhangs on breakfast bars and center islands when corbels aren't being used.
Made in America, these powder-coated gems come in 13˝, 16˝ and 20˝ lengths and are barely visible when installed. Reasonably priced, the patent-pending I-Brace by InnoTops is the perfect support solution to carry on any installation truck.
---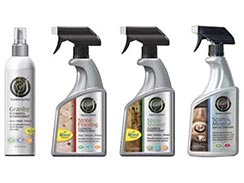 Supreme Surface Stone Care Products
Not your average cleaner or stain repellent, Supreme Surface Stone Care Products are the most advanced cleaning and conditioning technology in the current market of products and will clean and protect in just one easy step.
Also an excellent complimentary gift for that newly finished installation client, or once a year countertop servicing, Supreme Surface Stone Care Products are the perfect choice to offer your walk-in customers.