Customized and Detailed
Chris Miller was in Atlanta, Georgia recently creating one of his specialty sculptures: a 1940s model Ford pickup truck built by hand with dry stack fieldstone and granite.
He explained, "It's a stone truck made out of dry stacked fieldstone with granite bumpers, windows and rails. It's an oddity, and as it's constructed at an automobile sales center and car wash, it's also pretty appropriate. The idea is that it will attract attention and bring in more foot traffic and business. As far as the design, it's made to be readable at a glance. You have people driving by here at 40 miles per hour, and you have only three or four seconds to tell these people what they need to know, like, 'Look at that old truck. Hey, it's an old truck made of stone!' "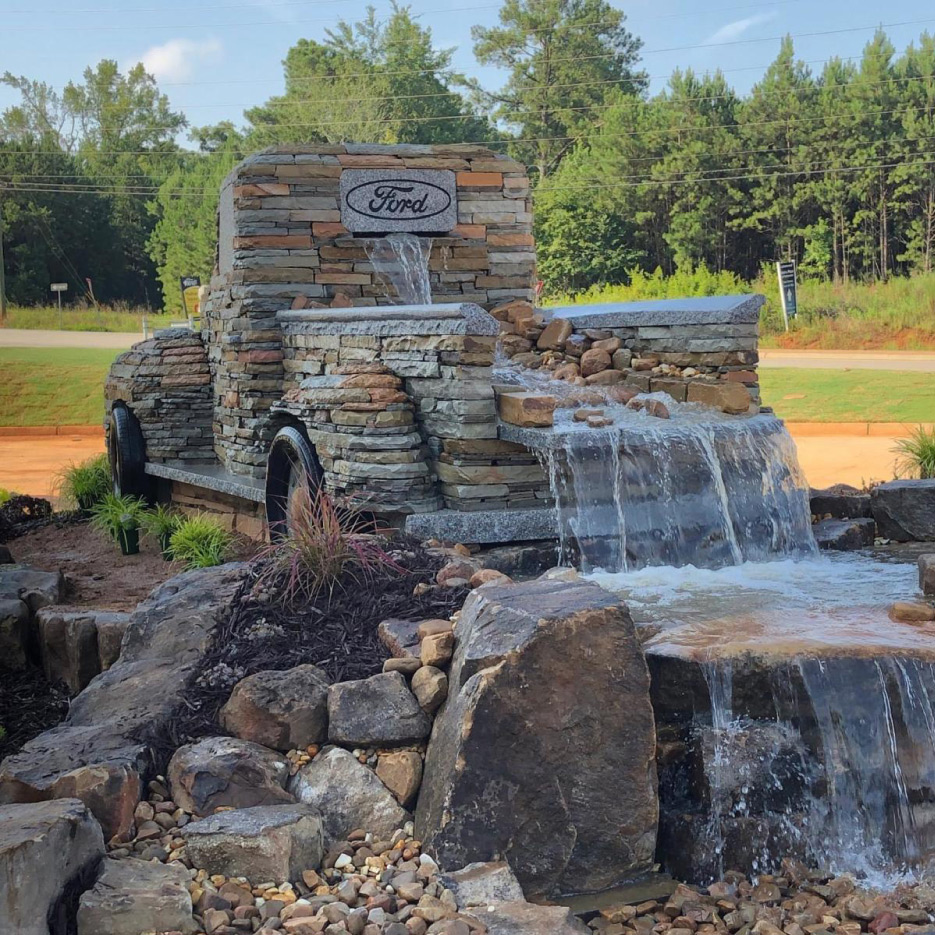 Miller hauled the Barre granite pieces to the site in a trailer. An aquatic specialist has made a water feature that pours into the back window, then into the bed, then cascades in a series of waterfalls, to eventually spill into a pond.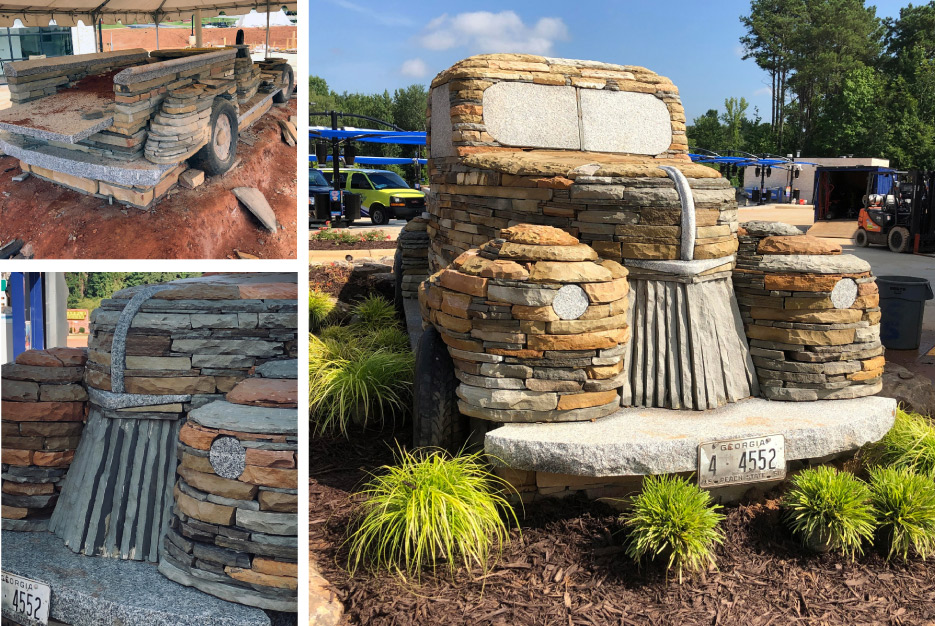 Chris used local fieldstone for the truck body, and to save time and onsite fabrication, made all the bumpers, windows and rails at his Barre, Vermont studio out of Woodbury granite sourced from the nearby Swenson Granite Company. Chris put the finished pieces and his tools in his trailer, and towed them down to Georgia. He then had twelve pallets of local flagstone and fieldstone delivered and got to work.
"I'm at workday 13 now, and I have the rest of the week to finish. It'll be about 20 days work, altogether. Things are going well, and I'm at the point of setting the windows, and then working my way to the top. It's a lot of fun, and I'm working completely solitary (and outdoors due to COVID-19), and not interacting with people. It's nice, and one of the reasons I took the commission, but working in Georgia in July is ridiculously hot! Today it's in the high 80's, the first day it hasn't been in the high 90's. Being from the North, for me this is oppressively hot, but it has been a real joy to work on this project. "
He continued, "The fieldstone truck I built years ago (in Vermont) has gone crazy on the internet. Hundreds of thousands of people have seen it, and I get really solid reactions. It's funny, you can do a beautiful, expressive statue, and people are really in awe, but you do a stone truck that's just a humorous stack of rocks, and it really draws attention. So I tend to like that whimsical stuff, and it goes over really well. There's no reason that a sculpture can't be whimsical and well-crafted at the same time. It's very fun, and it's a blast to make."