Stone Restoration and Maintenance Corner: Travertine Care
Bob Murrell
M3 Technologies
Photos by Bob Murrell
I have written about travertine before, but that was several years ago. Considering how commonly travertine is used, I think it's worth taking another look at this versatile stone. There are so many varieties that we can't cover them all in this article, but most share some common traits.
Travertine is a limestone, primarily calcite or aragonite, which has been normally deposited in or near mineral springs. These mineral springs can be either hot or cold, and high (alkaline) or low (acidic) pH. It is typically found in colors ranging from an off white to tan and gold, and there are some reddish varieties, too. It is the result of a quick precipitation process of calcium carbonate.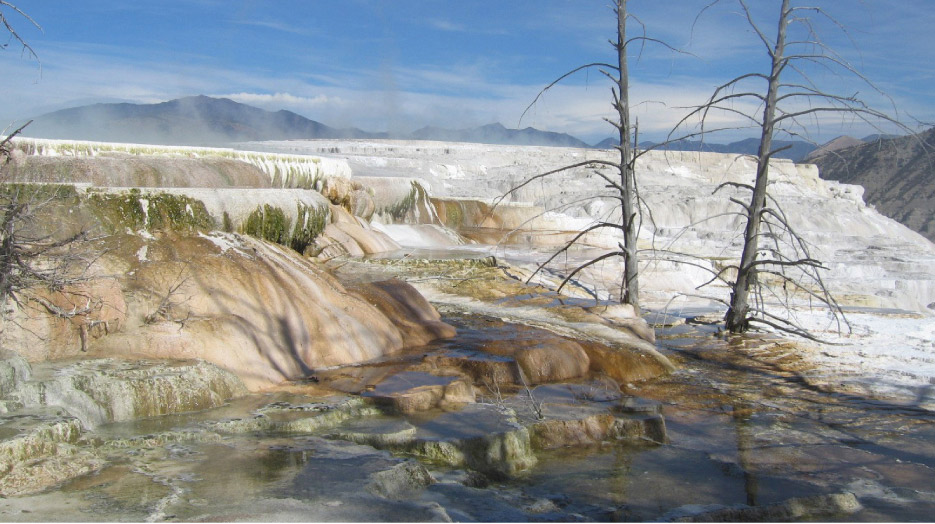 Travertine is a limestone, primarily calcite or aragonite, which has been normally deposited in or near mineral springs
Travertines, believe it or not, can be somewhat dense materials. A close relative of travertine is Tufa, which is normally more porous. Tufa generally forms in cool waters while travertine generally forms in warm or hot waters. There are lots of travertine deposits in the acidic hot springs of Yellowstone National Park. There is also travertine found in Oman that has been formed from alkaline springs.
Travertines, and especially tufa, contain naturally occurring holes formed by water penetrating the forming stone. These holes are typically filled (but not always) at the processing facility. If the stone is to be honed smooth with little or no light reflection, a tinted (usually buff colored) hydraulic cement, aka non-sanded grout, is typically used to fill the holes during the process. The cement is often polymer enhanced to improve the performance and life of the fill. We used to add Elmer's Glue to our fill back in the day. However, these cement-filled holes are not capable of taking a high polish.
When denser travertine is to be naturally polished, the holes are normally filled with resins, like polyester, as these will take a high polish just like the stone itself. Using resins to fill the holes is more costly and labor intensive but more durable. The stone must be dry before undergoing the filling process. The process should probably be completed at a low enough grit in the series so that any excess material can be removed by the next step in the process. These resins can be fairly hard and difficult to remove, so I would say fill no later than 220 grit, and preferably after 120 grit. Also, due to shrinkage, the holes must be somewhat overfilled to compensate. Any remaining cured overfill would be more difficult to remove with a grit 400 or higher.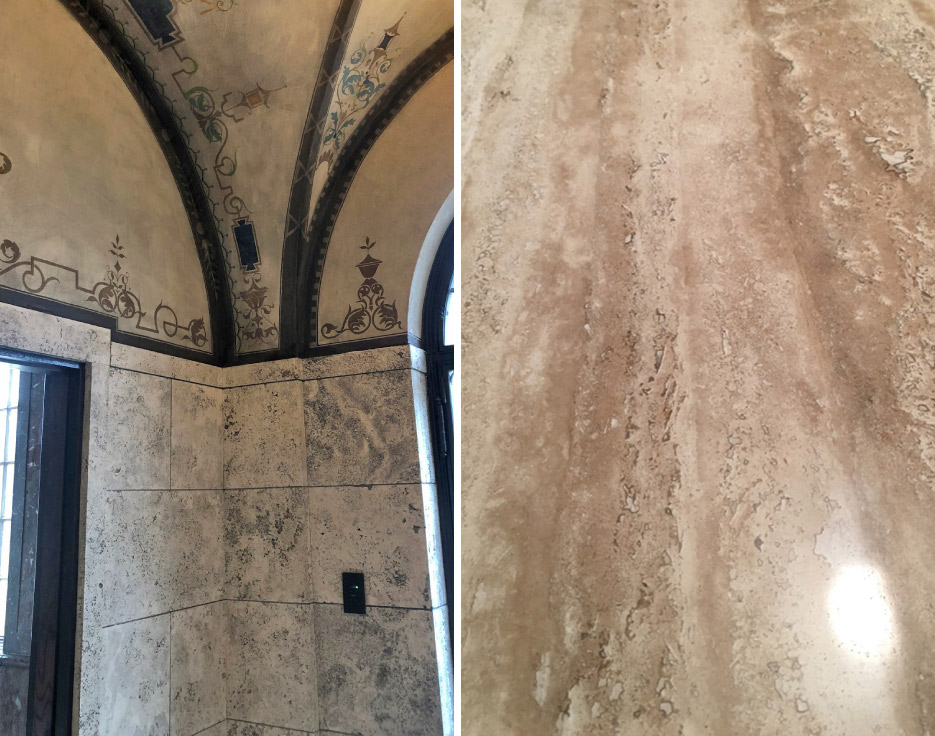 Above, left: Vertical unfilled travertine at the historic Candoro Marble Office Building in Knoxville, TN. Notice the accumulated soiling over approximately 100 years.
Above, right: A resin-based filler was used on this high-hone travertine countertop, before the polishing process.
The fill for many horizontal applications of travertines, and similar variations, will eventually deteriorate in the holes and will require some refilling. Traffic wear and routine maintenance will erode cement fills at a much faster rate than polyester resins. Once the fill has erupted, soiling will immediately begin to lodge itself in the holes. This soiling must be removed prior to refilling. Of course, should you come across a travertine surface that has a topical coating applied, you will need to take extra care to clean the holes of remaining coating during the stripping and removal process. Contractors with powerful extractors can make easier work of this.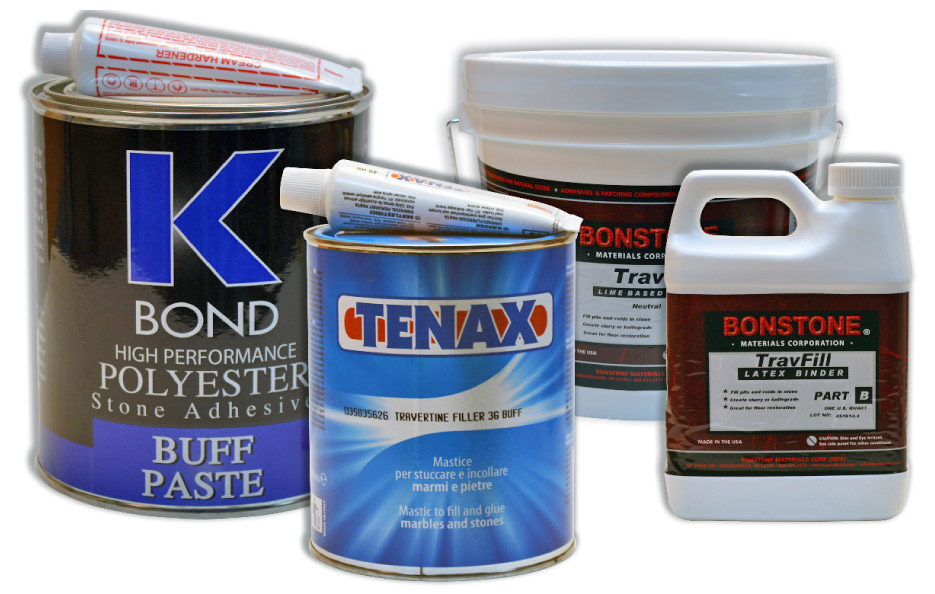 Bonstone, K-Bond and Tenax all offer a specially-formulated travertine filler. K-Bond is polyester-based, Bonstone is a lime-based, modified latex filler, and Tenax is resin-based.
Majestic No-Rinse pH Neutral Cleaner is perfect for routine maintenance of travertine and all natural stones.
So, a general procedure for either a honed or polished finish would be based on the existing condition of the surface. If there are any topical coatings, these should be removed first. For example, in the case of countertops, I expect that there would be etching and wear present, and I would usually recommend starting at a 220 grit flexible metal bond or resin bond diamond, depending on the severity of the existing damage. If the 220g metal diamond is used, the surface will now need to be cleaned and allowed to dry, prior to using resin to fill, if filling is required. In my opinion, the metal 220 grit will need to be followed by the 220 grit resin. With each successive grit used, I would feather out some from the previous grit. Regardless of the level of finish or grit level I ended with, I would always finish up with a dip (diamond impregnated pad) of that same grit or higher. The dip will help ensure a nice consistent finish and help remove any honing patterns. In the case of a polished finish, I even recommend using a 12,000 grit PLP dip to clean up after polishing with 5X, XXX, 10X, or Marble Polishing Compound. In many cases, dips may be used for a light restoration of the surface, if it is not too severely damaged.
Any coarse grinding of filled travertine, like in the case of lippage removal, may more than likely result in some fill removal or damage. I recommend calculating the filling process and including with any bid for the project. The filling process can require an extra day in some applications.
Once the project has been restored, use of a quality impregnator is certainly advisable, especially for "critical areas" like countertops, kitchen areas, bathrooms, and entryways. A quality oleophobic solvent- based impregnator like Majestic Low Odor Solvent Based Impregnating Sealer is always a good choice. If the stone is honed, a color enhancer like the Akemi Color Intensifier works very well.
Routine maintenance should consist of regular dust mopping and damp mopping with Majestic No-Rinse pH Neutral Cleaner, Stone Plus, or Stone Soap. Do not use products that are not approved for use on marble. I would also advise that walk-off mats should be used at entryways, especially from the exterior.
As always and before beginning any new project, I recommend submitting a test area to confirm the results and the procedure, prior to starting a stone or hard surface restoration/maintenance project.
Also, the best way to help ensure success is by partnering with a good distributor, like BB Industries, that knows the business. They can help with technical support, product purchase decisions, logistics, and other pertinent project information.

Bob Murrell has worked in the natural stone industry for over 40 years and is well known for his expertise in natural stone, tile, and decorative concrete restoration and maintenance. He helped develop some of the main products and processes which revolutionized the industry, and is currently the Director of Operations for M3 Technologies.
Send your comments and questions to Bob at attn: publisher@slipperyrockgazette.net .