Colonial Marble and Granite: A Case Study, Part II
Part II: Quote Countertops and Functionality in the Showroom, in the Shop, and on the Web
Larry M Hood
Peter J. Marcucci
Photos  Courtesy Colonial Marble and Quote Countertops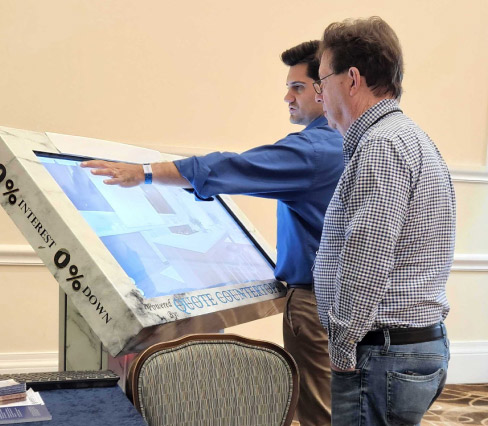 Branch locations and franchise owners who work with Colonial Marble are guided through the system, as they learn about the benefits of integrating the interactive Quote Countertops kiosk in their sales process.

In our August issue we presented Part I of an interview with Colonial Marble and Granite Owner-President Nikos Papadopoulos, and Senior Vice President of Marketing, Sales and Design, Sandra Phillips. Representing Quote Countertops is COO/ Managing Partner, Frank Sciarrino, and Chief Sales Officer, Steven Fiumara.
SRG: The Quote Countertops website lists four different levels or packages. The Kitchen Visualizer, Combo, Basic, and Enterprise. Could you please explain the features and benefits of the package you are using?
Nikos Papadopoulos: We pretty much use everything in Enterprise, and that package is available to anyone. It allows us to utilize all the features to the fullest, and we use it to engage with our customers. There are options for fabricators who don't know exactly what they want – and there are different price points for the different tiers of features. Maybe they just want to utilize one feature – like the kitchen visualizer, or maybe they just want the estimation tool. For us, we really bought in to everything this technology can do, and we implemented it into our day-to-day business. Steven can better explain the different types of packages available – for fabricators, or kitchen designers – businesses that want to utilize specific tools.
Steven Fiumara: Nikos is on our e-commerce Enterprise subscription. The big differences between Enterprise and the rest of the subscriptions include the ability for both online and showroom quoting, dealer accounts, our slab layout tool and the option to purchase a kiosk (See the August Slippery Rock). Online quoting gives consumers the ability to create a simple quote from a fabricator's website, social media, etc. Showroom quoting lets the sales team create or edit more robust quotes for the customer, includes an advanced quoting option to speed through creating a quote, and has the ability for the team to sign contracts and process transactions. Dealer accounts allow a fabricator's partners to create their own quotes instantly using wholesale pricing versus retail pricing. Slab layout was something many of our fabricator customers were asking for and we just launched it. It operates similarly to other options on the market but built into the software. And the kiosk provides an interactive experience and interface to a shop's full sales solution, including every single pricing product, every single price point. A lot of our customers will give away dealer accounts, and some may purchase a kiosk for their dealer network. The Enterprise subscription creates retail and wholesale sales opportunities, from lead generation all the way through contract signing and payment, all within our system.

SRG: Does Quote Countertops integrate with other production software?
Steven Fiumara: Yes. We have an API (Application Programming Interface) that allows Quote Countertops to interface with multiple applications. It integrates throughout the whole, typical work flow. Every data point in our system is able to push and pull, so we can pull data in from other applications, or push our data out. So as long as the other system is what we call "open API," they can connect into our API. Some of the data that can be pushed out from our software includes customer information, quote information, job information, statuses, specs, etcetera. They can also push data back to our tool, as well.
For example, the data can include pricing, tool setups and variables that affect their whole quoting process. Our tool is very front-heavy in the typical workflow for the whole initial experience including conversion and sale. Our tool gathers customer information, designs, specs, quote information, job information and notes, contracts, etc. The API integration is used to pull our information out and into an accounting or production management system. Once a job is signed-off on, it moves into a production management system, ERP or whatever they're using where the final data is easily. We do have the capability of creating a job within their production management tool too if needed.

SRG: Nikos, when you first installed the Quote Countertops system (in 2014), what was the learning curve and onboarding process like?
Nikos: From where it was to where it is today, the technology has really evolved. When it came on the market, there was nothing like it available. So, we were getting an immediate benefit on the tool, providing an stone shop-type of shopping experience, online, that had never before existed in the market place. We would get feedback from the sales reps, and the experiences that our customers were having. We were able to improve the overall online experience. I think that the Quote Countertop team has done a great job with the technology continuing to evolve, creating different features and functionalities that got us all to where we needed to get to, which is conversions, and to get the customers to go through the process. It is significantly better today than what it was in the beginning, but then it was a new tool in the marketplace, and now, the functionality has really expanded. But even back in 2013-14, we saw instantaneous success, because there was nothing like it. There was nothing out there that allowed for that online interaction to occur for our customers.
Colonial Marble and Granite sales and management team at their main showroom in King of Prussia, PA.

SRG: Did the software change the game for your company during the pandemic?
Nikos: I joke with Frank and the guys about that! Everyone went through an online purchasing experience because people didn't want to leave their homes. Well, now they're accustomed to it, right? Quote Countertops is the only thing out there that takes them through that countertop shopping journey, and of the very few estimation tools I've seen that have its capabilities. But through the pandemic, specifically, it was incredible. Because we had the right tool to interact with the customer at home and really engage with them. And, you know, we are moving into a world for the last decade where you go to your phone or your computer to search for things. And now, we have this tool that allows us to engage. With the buying cycle moving online, you're sitting at home, and you have nothing but time to waste. You're looking at your ugly kitchen or your ugly bathroom – remember, the software does bathroom visualization as well, and it does really well for us. So, we have those unique resources on our website, and it's been fantastic throughout the pandemic.
Overall, It's really aligned with what we thought, and still believe: that online is where the majority of the buying process for countertops occur. If you are prone to use software for countertop purchasing, that's an option we're providing online, and that's something (countertop companies) will see significant growth through.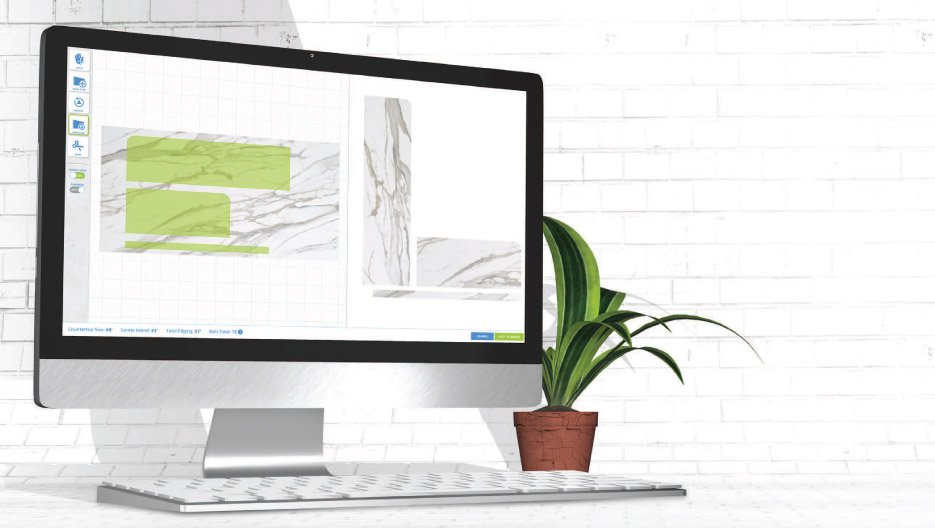 Above: The Square Foot Calculator built into Quote Countertops software now features an interactive slab layout tool for fabricators.

Below: The integrated Square Foot Calculator makes it easy to draw out and measure countertop space for quoting purposes.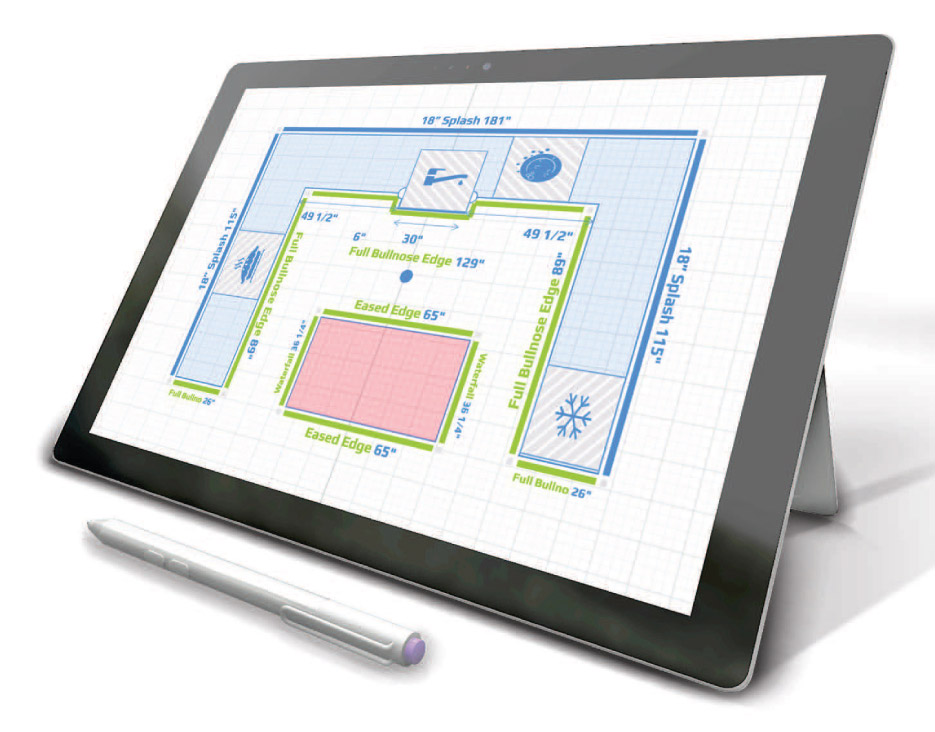 Below: The backend CRM allows tracking of leads and jobs, from quote to completion.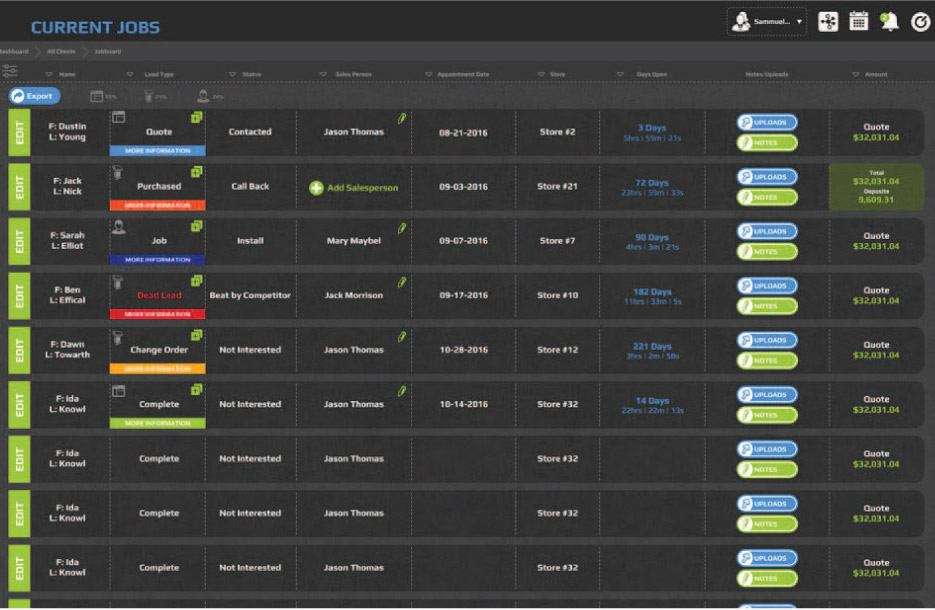 SRG: You've been telling us about Enterprise, basically the top-level package. What features are available with the other subscriptions?
Steven Fiumara: So, our software is not a one-size fits all solution. Depending on the goal or needs of our customers, we offer several options from standalone visualization to a basic package. All of our subscriptions include lead generation and lead capture and are easily integrated into our customer's marketing plans and tactics, including websites, social media platforms like Facebook or Instagram, email marketing and even traditional advertising.
Our Basics subscription includes visualization and limited, or basic online quoting. The goal is to create engagement online both in the ability for customers to start a design, and also build an accurate quote. With the Basics subscription, full showroom quoting, dealer accounts or kiosk options are not included.
The Visualizer subscriptions are pretty self-explanatory. We offer either a single visualizer (e.g., Kitchen Visualizer) or a combo visualizer (includes both room visualizers). Visualization gives consumers the ability to customize products in a kitchen or bathroom, like countertops, cabinets, appliances, etc. and "visualize" or see what their project could look like. With the Visualization subscriptions, there's no quoting involved.
Kitchen and bath shops love the Visualizer, because they're not just quoting countertops. They're quoting full kitchen remodels, and if they don't want to build out a whole quoting tool for their kitchen remodel, they can at least benefit from the lead generation that comes with being able to use it. Sandra explained how the tool can be used on social: to engage customers and let them design their dream kitchen or bath. Really, Sandra did a great job of explaining how Colonial draws customers from that.
Again, our subscriptions are not a one-size fits all. Different customers have different goals or needs. In terms of subscription options, we offer both monthly or annual payments.
Frank Sciarrino:Nikos, I remember that you were tracking results a few years back: you generated around $12 Million online from the visualizer and quoting tools on your website alone. And your conversion on those leads and quotes was over 30 percent. So, just from online encounters, you're bringing in more jobs than some countertop shop do in a couple of years.
Nikos: And what's really great about it. First – we get the potential customers connecting with us.
Secondly, if we're able to get those customers through our doors, we have an over 50% conversion on visitors who have made their way from a web encounter to our showroom.
So, we average anywhere from 52 to 60% at times on our walk-in traffic conversion. Again, a lot of this traffic stems from a tool that was online.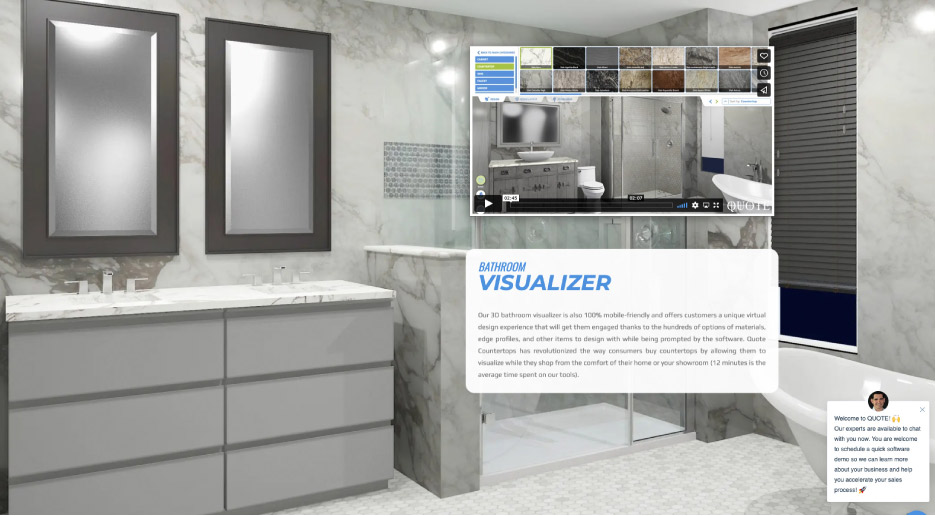 Above: The Bathroom Visualizer can offer hundreds of options in treatments and materials, customizable to a shop's inventory.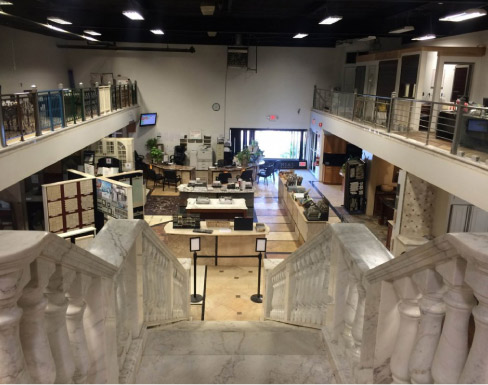 Once customers get in the Colonial Marble and Granite main showroom in King of Prussia, PA, besides the interactive kiosk, they are surrounded by a wide array of real samples that customers can see and touch. An incredible marble staircase leads to the second floor of the showroom.
SRG: Nikos, you mentioned you'd had an insight about how the internet was an unknown part of the sales cycle, and how you suspected your website was crucial in helping visitors make shopping decisions, before they actually got to your shop. With the addition of Quote Countertops you had actual metrics on prospects browsing your website, and how the Quote Countertops system was driving sales traffic to you. Can you describe that?
Nikos: We had seen that an online purchasing cycle was really starting to develop. Outside of our marketing efforts, we understood that there must be another facet to the buying cycle that exists online. We wanted to be one of the first companies to be able to offer that whole countertop shopping process online. The ability to create templating, make fabrication decisions, and quote installation costs, and to have the customer go through that buying and quoting journey all on their own – that technology was very new. And seeing that everyone is moving to an online experience, that was one of the things that resonated the most with me. I thought it was genius. There was a product out there that enabled us to be able to have our customers go through a design journey that had not been available before Quote Countertops. So one, the software separates us from the pack; two, it's gorgeous, cutting-edge technology, and our customers love technology; and three, when you're a consumer who is able to participate in the process and become the designer – how cool is that? How many places can offer that experience? We were one of the first to be able to do that, and we saw the results for it almost instantaneously.
Working with Quote Countertops was a new insight. It was a new opportunity, and that's how we really looked at it. We were really intrigued to see what (the web) can do. We came to realize that the web wasn't actually a part of our sales cycle, before. So the minute we were able to see the customers being identified and the type of engagement that they were really having with our new website – that was a revelation to us. That's kind of what we had hoped for, but never to the level that we discovered. Having customers or potential customers going through a quoting and visualization process – yes, it was new for them. It was new for us, too, and new for our sales reps – but we got to see some marketing that really stuck. In the sales process you want the customer engagement to have substance, not just these gimmicky ways to get the customer's attention. The Visualizer was something that was sticking to the sale. The customers were engaged. They had an understanding of the products that we offered. It took them through a process that put them in the driver's seat, and then when we received all that information, a lot of the decision work was already done. To Sandra's point, a customer will use a word like "traditional" kitchen – it can mean a completely different thing in Lancaster, PA, it can be completely different than a "traditional" kitchen in Philadelphia. So the customer can walk in the door and say, 'I want a traditional kitchen.' If they've already played with the design tool, you got to see what their perception of a traditional kitchen is, or how the understand the concept. We were able see that the tool was doing a lot of the work, and the sales rep had a really informed beginning to the sales process, because the customer had given us a clear direction they want to take their kitchen. The sales rep could use that as a base to take their project to the final sale.
Introducing Quote Countertops brought a whole new insight to the sales process for us, and one that really stuck, and is still here today. The customer engagement is one of our biggest drivers of conversion.
Another important thing that we haven't mentioned at all is the quality of the lead, which may be the most important thing of all.
You have a customer, a real customer, who is going through the authentication process, through verification, whether it be an email or phone number. They're being pre-verified as a valid customer, and then that customer is coming in, and ninety-plus percent of the time, you're dealing with a qualified lead. And that is unheard of, in the old process. And like any other shop, we don't want to waste our time. The beauty of it is, we used to have different steps with a lock when the customer is able to see our whole catalog, so they would have to go through X amount of clicks or X amount of pages to get a quote. To get pricing, they have to let us know that they're real, and that's information they don't disclose to just anybody. I want to make sure that we are dealing with a real person, and the lead is a true lead.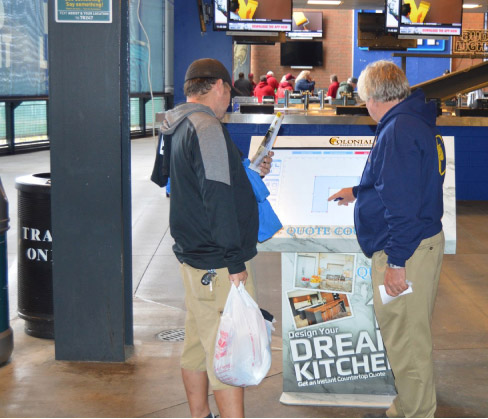 Unstaffed, self-run Kiosks can also be installed in public spaces, and according to Nikos Papadopoulos they result in a surprising number of sales conversions.
SRG: To pre-qualify a genuine lead is huge benefit! It means they're not wasting your time, you're not wasting theirs. Does Quote Countertops software have any other side benefits? Can it be used to train a sales force?
Frank Sciarrino: I can address that. Yes, it's a great training tool. The quoting tool follows a step-by-step process on selecting things like countertops, backsplash, demo, plumbing, sink cutouts, etc. It's designed so a salesperson follows a pre-defined process and doesn't miss any steps or upgrade opportunities. Each step includes product images, descriptions, related features and more. Our customers can use the software to train their own team, or our Onboarding and Customer Success teams can provide that training.
The step-by-step process makes for an easy and consistent sales experience. It prompts discussions to catch little things that could be missed or forgotten which means lost revenue. Let's say you have a customer who is interested in a countertop, but forgot to think about a backsplash. It also lets the sales associate ask questions that need to be asked like, 'Hey, do you need us to demo your existing countertops? Do you need us to disconnect the plumbing? Do you need a new sink or faucet?'
So yes, while it's a great training tool, it also makes for a consistent sales tool to have your whole team quoting the same way and remembering to ask the questions that lead to upgrades and increased revenue.
Nikos: Again, the software captures most of what is involved in the countertop sales process. So, to Frank's point, it is a great tool to use, and it has a fail-safe checklist so you aren't missing anything. The essentials of the buying process for a countertop sale are all there, so the sales reps outside of training can always refer back to the tool in the sales process, if they ever needed to.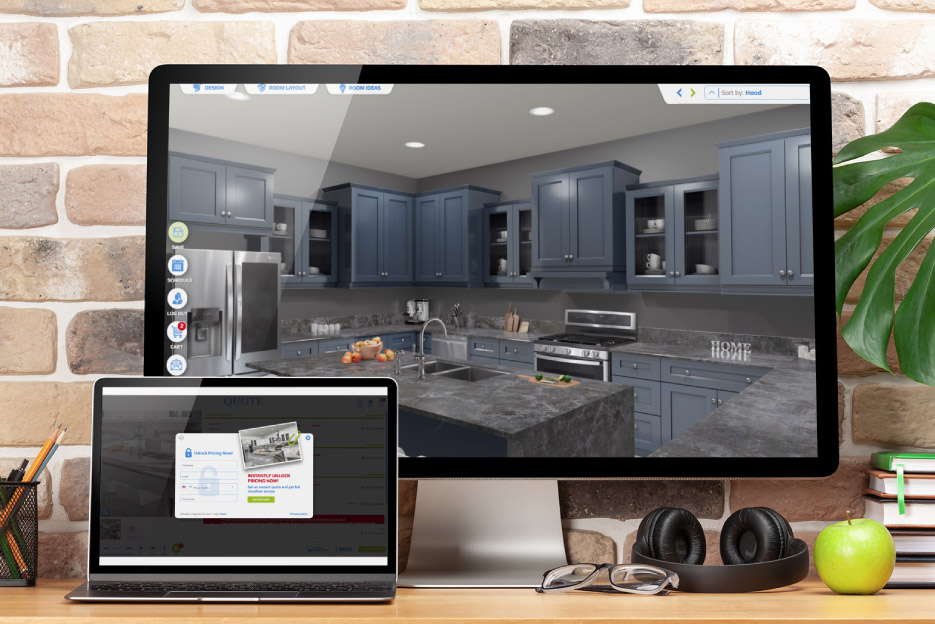 Above: A design and lead form is generated when a potential customer is led through the online design and quote process. Colonial marble and Granite has seen an online conversion rate of over 30% from these online encounters.

The two residential samples below show projects introduced though a Quote Countertops online interaction and completed through consultation in the showroom with the customer.

Below: This project uses two complimentary types of marble. The two-sided, mitered 3cm waterfall island and eased-edge perimeter uses 3cm Statuary Arabesque marble, while the fireplace (in background) uses Calacatta Black Supreme.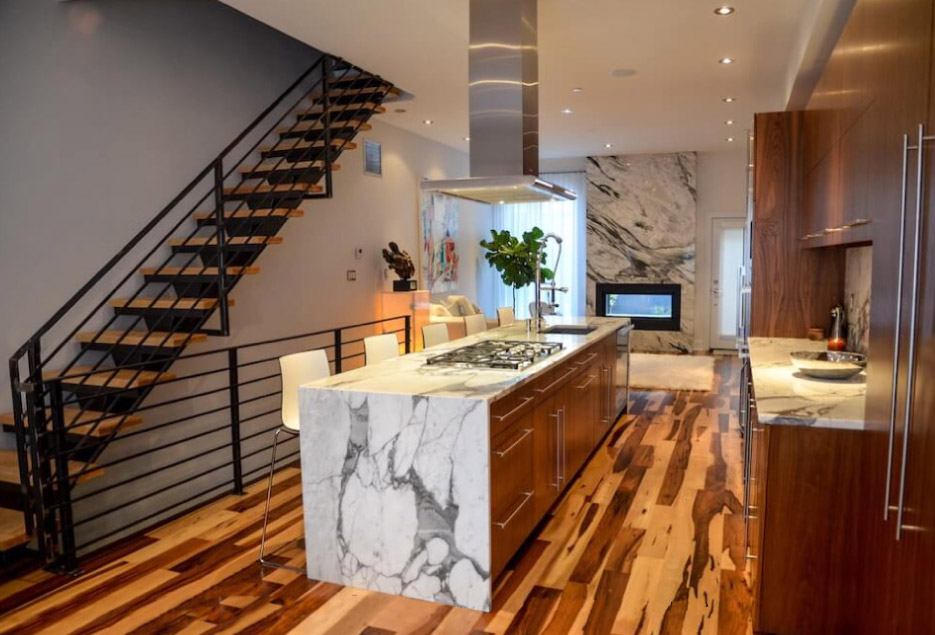 Below: Kitchen material, perimeter: Blue Fantasy marble with eased edges. Kitchen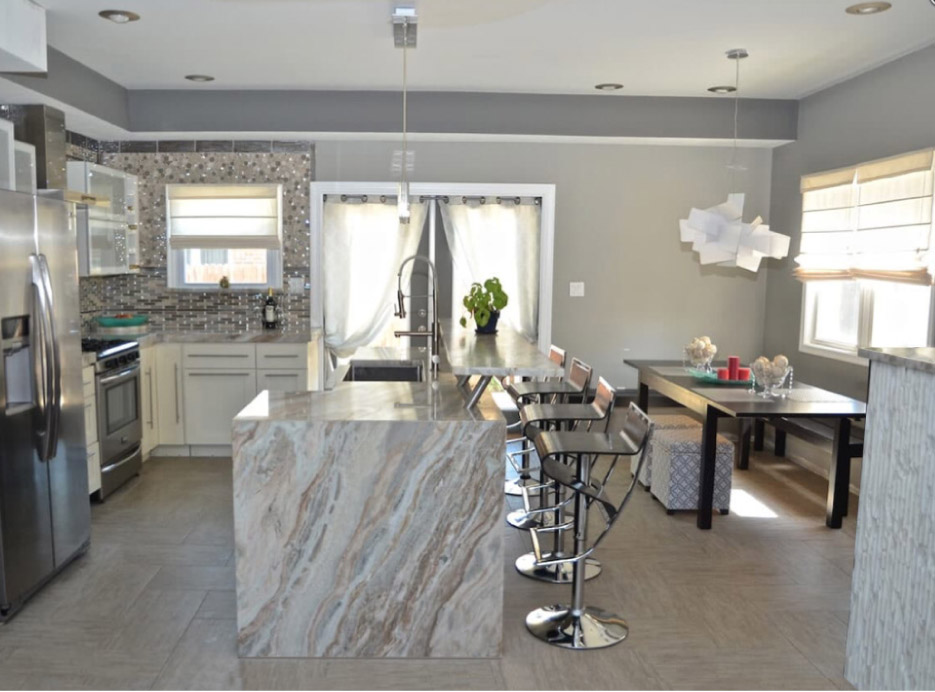 SRG: Could Quote Countertops be used as an online selling tool to make a final purchase?
Nikos: If the customer knows what they want and the tool is able to capture the entire interaction, and they have made all their selections, we would have to do very little to no selling effort. The technology itself would do all the work, and we could just sit back and schedule the job. Then you would have this online source of revenue which could be a part of your regular revenue cycle, and you got it right from the tool – the tool did all the work. It could be the most focused employee you've got!


SRG: Nikos, do you have any additional thoughts on how Quote Countertops has improved your business and your customer interactions?
Nikos: I just think having a tool that allows for engagement in a very complicated interaction and has made it into a simple process has been one of the greatest benefits for us on the retail side, because a large portion of our business is retail driven. For any business out there that is retail-driven, I think they would be making a mistake to not utilize a tool like this, because there's no downside, there are only benefits that come with it.
And for any business that really wanted to get out there, take what they feel is a risk, like to make an investment on paid advertisement – You have a tool that really compliments that effort, that increases the probability of conversion right off the bat, for such a minimal cost. It really just aligns with everything that I wanted it to do, and the technology has surpassed any expectations that I had. So, the Enterprise package has been just phenomenal for us.


Our thanks to Nikos, Sandra, Frank and Steven for sharing their experience with Quote Countertops.
For more information visit www.colonialmarble.net and www.quotecountertops.com .