Page 3 - May Slippery Rock Gazette
P. 3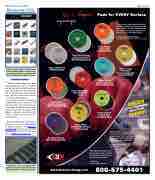 Slippery rock Gazette
Rockcrete USA
May 2020|3 Pads for EVERY Surface
Product page from the Rockcrete USA website displays a wide selec- tion of options, gives customers the option to shop for a system online.
Continued from page 2
"We don't make things more com- plicated than they really are, and we can get a lot done in a short amount of time and without a lot of disruptions. We are affective, have a lot of experi- ence, and 95 percent of the work we do is for the stone industry."
In closing the interview, Liebenberg mentioned there were some new cost and innovative time-saving ideas in the pipeline. He promised to keep the Slippery Rock Gazette and the stone industry informed when Rockcrete USA is ready to reveal their new developments.
For more information about current products, services and a huge number of happy customers, visit www.rock creteusa.com. You can also call Hank Liebenberg at 877-999-1175, or email him at sales@rockcreteusa.com.
Viper 7-Step Dry Polishing Pads
Talon 3-Step Vitrabond Ceramic Bond Dry Polishing Pads
Heavy-duty hot dip galvanized grates are used for pit covers and the Mega-Max trench drain system.
www.braxton-bragg.com
800-575-4401
Viper 7-Step Granite Diamond Wet Polishing Pads
Scorpion 7-Step Wet Polishing Pads
"We have used the Viper pads for over 8 years because they are consistent in quality, affordable, & long lasting. I have tried dozens of other pads but none have produced the cost to production ratio that the Vipers have performed."
— Frank Keyser, GM MGT Stone Inc.
"The Viper 3-Step Pads are the best I've used...Saves us 60% of polishing time and lasts twice as long as the previous pads."
—Tim Zeng
Granite Installation Specialists
Viper Elite 6-Step Granite Diamond Wet Polishing Pads
Viper 3-Step Wet/ Dry Polishing Pads
Viper 7-Step Quartz Diamond Wet Polishing Pads
Diamondback 7-Step Wet Polishing Pads
Viper 7-Step Flexible Marble Dry Polishing Pads
TM
Talon 4-Step Quartz Wet Polishing Pads
"This four-step system is the best solution I have come across for polishing engineered stones. There is no color transfer from the pads. The process is quick and they work equally as well on our natural stones."
— Phil Kuczma, Shop Manager
Italian Marble and Granite Inc., Clarence Center, N.Y.
ORDER
YOUR POLISHING SOLUTIONS
TODAY!